About
Wine Blog
All the latest and other musings from Simon.
Monday 19th January 2015 12:35pm
A promising Order?
I could have sworn the great man was away at the Africa Cup of Nations, but apparently not....
"Hi ,
I'm pleased to send this mail regarding your products below :
-Wine           200  Bottles
-Whisky       100  Bottles
Please can you send me your offer included an express delivery to Uk.
PS: To celebrate my foundation's party this week
Best regards
MR. Yaya Toure
https://twitter.com/toure_yaya42
Manchester City Football club"
Wednesday 14th January 2015 16:46pm
2013 Red Burgundy
SVS will not be making an extensive en primeur offer of Burgundy this year - and we have offered every year from 2002 to 2012, barring
2008 - as I just don't think we or our customers have an appetite for
it. Here's the background.
The Weather
There's no beating about the bush. 2013 in Burgundy is 2008 all over again – a very difficult vintage in which to make great wine, simply because the weather was so awful. Let's get the pain over with quickly: the spring was extremely wet, with almost twice the average rainfall. This wet and windy weather continued into late spring: flowering was affected and was very uneven – thus reducing the number and size of the bunches, which may have been a blessing given the cool and showery summer.  Slightly warmer temperatures in August and September were barely enough to ripen the grapes, and in the latter month warm and humid conditions brought on the threat of rot. The harvest was the latest many could remember.
The Marketplace
have to reproduce this, as I found it so amusing, and so accurate in its prediction. It was posted by a Robert Stanier of Surbiton on Jancis Robinson's website.
"Burgundy 2013 en primeur: the email we are about to receive in the New Year
"This is my attempt at writing blurb about Burgundy 2013 en primeur. For the record, I haven't tasted any of the wines, but I think it'll go like this
'This vintage is a glorious surprise (we can't call it 'great' as the weather was famously awful, but we can manage expectations down and then with 'surprise' indicate that it was surprisingly lovely.) Uneven summer weather and hail in some places meant that yields were going to be low, but the vintage was saved by autumn sunshine, and has produced a crop of charming, balanced wines (and that's a bonus, because the trend is against alcoholic fruit bombs, and whoever wanted them from Burgundy anyway, though we weren't saying that after the 2009 vintage, but you'll have forgotten that by now).
'Of course, there are some lean examples (but we would never name and shame them, heaven forbid, that would be bad form, so you the consumer are just going to have to guess: of course, none of the 'lean' wines have found it on to our roster) and the maxim never holds more true: know your producer.
'Luckily, thanks to our long term contacts in the region (don't imagine we'd ever de-select a wine from one of our friends: if we've been buying from this vineyard for the last ten years, we will keep doing so come hell or high water, to keep our allocation in the good years, so frankly, it may be rubbish, but we'll still pass it on to you), we have found some of the best examples.
'Of course, as yields are low and demand from the Far East is increasing, prices have naturally risen (bad luck, but we'll make sure we keep our share), but there is still value to be found, if you look hard (if you buy from us).' "
The Reds
The quality of the wines is arguable: certainly it isn't a homogenous vintage, and the same producer seems to have turned out variable wines. But the biggest problem I have is not with the "quality" issue, but the style of the vintage. The clue is in decoding words other wine merchants are using: words like "refined", "elegant", "tenderness" and "transparency" can be translated as light, delicate and insubstantial. Now there are many purist lovers of Burgundy out there who appreciate these qualities; but here at SVS we - and we believe the vast majority of our customers share our views - do like ripeness.  I have tasted a number of wines with an en primeur delivered bottle cost of £25 or more which are simply green and leafy – and this despite very widespread chaptalisation (for those who don't know it, chaptalisation means adding sugar before fermentation).  I have never, ever, noticed the flavor of celery in a number of red Burgundies, as I did this year.  Jancis Robinson compared the vintage to 1996, a vintage with famously high levels of acidity, but the 1996s were much more fun to taste young than many of these wines. Likewise I found tasting 2004 or 2011, two other crisp vintages, more enjoyable. Sorry to be negative, but there you are. The good wines show bright red fruit flavours: raspberry, strawberry, red cherry and cranberry; and excellent aromatics. But this is why we sell so much New World Pinot Noir - because the wines give so much more pleasure than much more expensive wines from Burgundy in a difficult vintage. 
This is not to say we are not buying the vintage; we are, but really selectively - for example we selected some red Blagny from Faiveley that we have never bought before. (Incidentally, we will be buying lots of whites. I like cool vintages for white Burgundy - I was never a fan of 2009 whites - as acidity is so important for longevity). The real issue is that, as Jancis Robinson noted in the FT magazine, "it is only where yields were really low that the fruit was able to reach anything like full ripeness"; to which I would add, in the better sites too. And by definition that means you have to go up the scale in terms of price to find quality.
An aside: the big London merchants have to sell, sell, sell - especially with Bordeaux 2013 being such a bust. There are targets to make and lots of charming, pinstriped double-barrelled salesmen working their red socks off. I am so glad we don't have to prostitute ourselves at Stone, Vine & Sun.....
Monday 5th January 2015 14:02pm
Christmas Highlights
Christmas is a time of year to revisit old friends to see how they are…in our case this means wines we sold some time ago. Three highlights of this year's festivities were:
With the turkey
Brooks, Janus Pinot Noir, Willamette Valley, Oregon, 2005    
This was the first vintage we sold of this, one of the top wines at bio-dynamically farmed Brooks. With sterling then riding high against the dollar the price in 2008 was a mere £18.25. This looks absurd now, as this beautiful Pinot – still youthful and vigorous, with plush fruit, perfectly integrated oak and modest alcohol, would have knocked many £50 Burgundies into touch. Standing proud amongst the myriad flavours of Christmas it bears out my long-held belief that New World Pinot is the best accompaniment to roast turkey. We have just shipped the 2011 vintage of this cracker, now £27.50.
With lamb and butter bean casserole on the Saturday after Christmas:
A Jeroboam - 5 litres - of Chateau Barrejat, Madiran 2005.  
We have been staring at this gigantic bottle for years (turning it upside down from time to time to keep the cork damp) so long that I feared for the state of the wine, which originally cost the equivalent of just £8.25 a bottle. I needn't have worried. Safe-cracking skills were needed to get through the hard wax seal, but the giant cork came out perfectly and the wine was lovely, just on the turn from mulberryish fruit to more gamey complexity. Yes it's a bit rustic, but that's part of the charm. Again, lowish alcohol helps, especially at lunchtime!  We currently stock the 2012 vintage of these monster bottles at £75.00.
Finally, with seafood linguine on New Year's Eve:
Lequin-Colin, Chassagne-Montrachet, 1er Cru Les Caillerets, 2010  
Served by a generous friend and customer, and truly delicious: this wine always combines honeyed richness with the raciness of this stony site. The ripeness combined so well with the mild sweetness of scallops and crayfish, and the acidity cut the weight of the pasta perfectly. A treat. We actually still have a little of this left at £33.95. Worth every penny, and now we know quite how good it is, it won't last!  
Sunday 28th September 2014 16:04pm
Hampshire Sport
A confession: this is barely to do with wine, but as a Hampshire resident I need to get this out there:
On Thursday the Hampshire Cricket team won the Divison Two title, earning promotion to the Cricket equivalent of the Premiership.  The last day's star was quick left-armer James Tomlinson (adorned with a full beard of W.G. Grace volume), who took 6-48 in 11 overs, but Hampshire Captain, Twyford resident and SVS customer Jimmy Adams helped set up the win with 91 in the Hampshire second innings.
The Saints are currently second in the Premiership. I was at their sixth win in a row yesterday when they beat QPR (no great task - bigger challenges ahead).  As a deeply pessimistic long-term supporter I can't really believe this, especially after the departure of manager and most of the talent in the summer. But as a supporter one must just move on.  At St Mary's the noisy folk in the Northam Stand certainly have. The chant that used to celebrate Adam Lallana has been switched to canny left-footed playmaker Dusan Tadic: "he plays on the left, he plays on the right; Dusan Tadic makes Lallana look s****". COYS  ("Come on you Saints" to the uninitiated).
Former Hampshire boy Justin Rose is starring in the Ryder Cup - on the first two days Europe would have struggled without his example
Monday 8th September 2014 15:37pm
Remnants day at the shop:
Saturday 13th
September, 9.30am-4.00pm
We always have lots of odd bottles and cases left after the first weeks of the sale have passed, so here's a chance to come to the shop, taste a few wines, and tidy up what remains.
There will also be bin ends and oddments not featured in the Summer Sale as the quantities, usually 1 or 2 bottles, were too small to list - and more bottles with damaged labels at 15% off
The shop will be open as usual, so any orders from the sale can be mixed with orders from our latest Italia Nostra list or indeed any other wines in our stock.
There will be additional discounts too - so do come and see us!
If you have not visited us before you will find directions here.
Tuesday 22nd July 2014 17:33pm
Well, the server is finally all hooked up. May take a while to fully appreciate the benefits! pic.twitter.com/th94KAoZ8G
Wednesday 28th May 2014 10:45am
Wine as an investment?
A recent article in the Daily Telegraph on wine investment, written with no explanation of the methodology of the study, and no qualification, brought on a Mr Angry of Hampshire moment. I fired off this letter in response. It was published (today) but the last third was hacked off, so here is the full version.
Sir - Your article (May 21st) and online (titled "The best investment of the 20th century? Red wine") will no doubt prompt more people to consider wine as an investment.  Salesmen at top, honest wine businesses and fraudulent ones (two more were closed by the High court on the 14th May) alike must have been delighted that they can now use these unqualified headlines to lure more people into "investments" which are likely to either disappoint or prove catastrophic.  As much as anything, the particular study reported is highly selective: to measure investment in wine by the first growths of Bordeaux alone is like calibrating investment in the art market by only considering prices for Cezanne, Van Gogh and Picasso. 
As a country wine merchant I am frequently asked by my customers about wine investment. Almost invariably I advise against it, for many reasons. First, it's not a level playing field. Very wealthy people, who buy and consume enormous quantities of wine, have access to the finest "investment grade" wines in top vintages, and in addition will pay less than you do. Second, there are considerable costs in terms of storage, insurance and selling commission which tend to be ignored. Third, the fine wine market has witnessed  an arguably one-off upsurge in prices since 2000, in part based on the entry of Chinese buying, but also on account of the search for alternative investments since the financial crisis of 2008. Fourth, the Bordeaux Chateaux, feeling that the secondary market was making too much money out of their wine, increased their prices dramatically for the 2009 and 2010 vintages, thereby raising the bar for entry hugely and also damaging prospects for future price growth. Finally, far too much fine wine over the last decade has been bought for investment alone, but wine is not like diamonds or gold or art. At some point it needs to be drunk, and a lot of this wine bought for investment has become too expensive for all but the super wealthy to consume: this is a hitherto unknown threat. 
So what is happening to wine prices now?  At a time when most global economies are in recovery, fine wine is falling in value. The Fine Wine Fund / Liv-ex unit performance shows 13 straight months of lower prices and has lost over a third of its value since the start of 2012; and many top Bordeauxs of the great 2009 and 2010 vintages are now available for less than their release prices. Buying more than you need and reselling some to reinvest has long been an English middle class pleasure, but for all the reasons above please don't buy wine as part of any serious investment strategy unless you are super-rich. Wine is for drinking not investment.
Simon Taylor
Stone, Vine & Sun, Hampshire
Friday 21st February 2014 17:29pm
Michael Cox (1951-2014)
We heard today the very sad news that Michael Cox has died. We knew Michael in his last role, representing Wines of Chile in the UK, and also as the Master of the Worshipful Company of Vintners (he was a very generous host there). He was a brilliant promoter of Chilean wine, combining his remarkable depth of knowledge of the country's wineries and lengthy trade experience to great effect. He was hugely helpful when I first visited Chile in 2006, and even last year, when he was already suffering from cancer, he took enormous pains to make new suggestions for us. It wouldn't be exaggerated to say that we wouldn't have our broad portfolio of wines from Chile without Michael's input. Finally, he was an incredibly nice man - charming, humble, wearing his expertise so modestly, yet also witty and passionate when the cause demanded it. We will miss him, as will many others.
Monday 10th February 2014 10:20am
Veronique Perrin-Rolin showing Roger Perrin wines here at SVS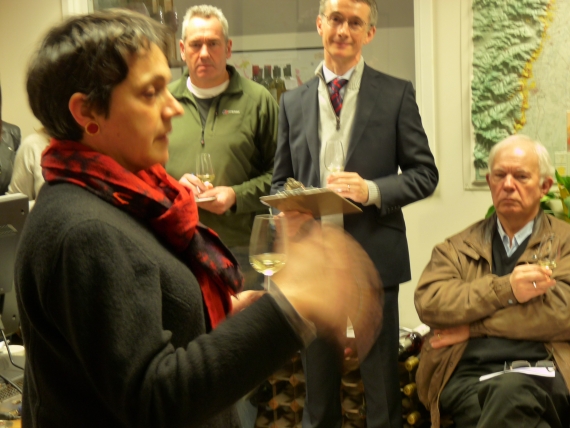 We were lucky to have Veronique Perrin-Rolin, current winemaker at Domaine Roger Perrin in Chateauneuf-du-Pape for a tasting here at SVS on Wednesday night. She never expected to be in charge of her family's fourth generation estate, but her brother Luc died unexpectedly in 2010 and she stepped in. As she pointed out, she was well-equipped to do it – she has 20 years experience as a trained oenologist and currently also consults from her home in Tain.
On the evidence of this tasting of 2011 and 2012 wines, Veronique is really pushing on at this estate, which is now marked not just by great value but improvement in quality too. First up was their 2012 white Cotes du Rhone Prestige, a wine we will be shipping for the first time, and still available en primeur. This went down very well, showing tropical fruit (especially in the aromas), combined with a pleasant almondy bitterness and some stony minerality too. Among the reds the 2012 Cotes du Rhone Vieilles Vignes, from a patch of very old vines just outside the boundary of CdP, was very impressive, showing both power and vitality. Then we got to her 2011 Chateauneuf, a wine just (March 2014 Decanter) declared as the single "Outstanding", 95+ point wine in a blind tasting of 107 2011 Chateauneufs. This was, unsurprisingly, much appreciated. We sold a lot on the evening, which made Veronique happy….