Best Light & Bright Italian Whites for 2022
10th August 2022
The quality of Italian whites has changed so much over the last forty years: the wines are so much cleaner, fresher and fruitier; although the distinct appeal of many Italian whites rests less on overt fruit and more on herbal, nut and other flavours; plus texture and volume.
All but one of the wines we've picked as our Best Light & Bright Italian Whites for 2022 are from north of Rome, and most from the Veneto and Piedmont, so from the cooler half of the country.
We also have 3 picks from grower Tenuta Casali. Based in Mercato Saraceno, south of Cesena in Emilia-Romagna, the Casali family have 20 hectares of grapes, mostly on hillsides on the north-eastern side of the Apennines. Their land is now worked to organic practice and the wines will be certified soon. Ignore the complicated, little-known names – these are well-made, interesting, fruit-forward wines, smartly presented, and we are delighted to introduce them here.
Here's our lovingly-sourced, hand-picked Best Light & Bright Italian Whites for 2022!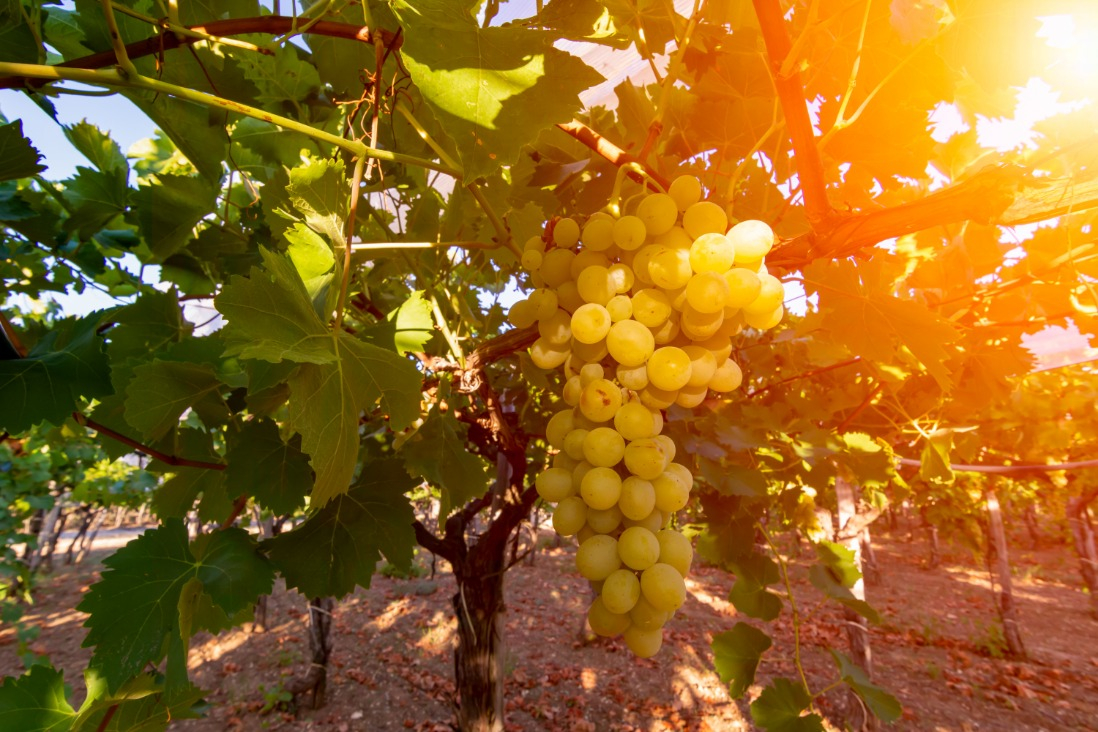 ---
Named after the town, Benevento, in eastern Campania. Here the Falanghina grape shows hints of stone fruit, herbs and citrus. Light and fresh. Drink this year
WE'RE SORRY, BUT THIS WINE IS NOW OUT OF STOCK. BUT YOU CAN FIND MORE LIGHT & BRIGHT ITALIAN WHITES HERE.
---
Le Tende have just 14 hectares of vines, all organically tended (certified) near Colà di Lazise, just above the south-eastern corner of Lake Garda. Their single white is a blend of Garganega, Cortese, Trebbiano and Trebbianello (= Tocai Friulano). Pretty, floral scent; and then builds well on the palate, showing pear and lime flavours. Mid-weight, a classic, not obviously fruity, northern Italian white. Now-2023
---
Arneis is an ancient white grape in Piedmont, a speciality of the Roero. Stimulating herbal notes of mint and lemon balm, around a lively palate. Plenty of both weight and freshness. A firm food wine for chicken or veal. Now-2023
---
Offida Pecorino is a DOCG for wines from Pecorino, an ancient grape of the southern Marche, in this commune of Ascoli Piceno. From organically farmed (certified) grapes, a silky mouthful of green melon and cucumber with a hint of lemon verbena. Excellent depth - from a little skin contact and six months ageing on the lees - and a zesty finish. Now-2023
We started working with Paolo Beretta (formerly a dentist) and Paola Massi (a research pharmacologist) at Fiorano in 2015, with immediate success. Their wines exemplify perfectly the virtues of small-scale - they tend just 10 hectares of vines - organic cultivation. All exhibit an entrancing purity of fruit, and all are bottled with minimal sulphur levels.
Paolo and Paola bought the farm in 1991, and consider their grass-covered vineyards, a beautiful amphitheatre, lie in a special spot: about 250-350 metres up on the eastern side of the Apennines, about 15 kms. from the Adriatic, surrounded by their own olive groves, on a mix of clay, limestone and sand.
WE'RE SORRY, BUT THIS WINE IS NOW OUT OF STOCK. BUT YOU CAN FIND MORE LIGHT & BRIGHT ITALIAN WHITES HERE.
---
The reputation of Trebbiano as a grape suffered terribly from too many boring, neutral whites produced all over central Italy. This example from, produced by diligent young growers in conversion to organics, shows the simple and flexible virtues of the grape. Crisp citrus with an orange accent, lightly herbal, nicely rounded, with a fresh finish. Honest, refreshing and tasty. Drink this year
"The widely planted Trebbiano grape has a reputation for producing light and anodyne wine - but the Casali family's organically tended vines of the local variant, Trebbiano Romagnolo, make a refreshing, orchard fruit-flavoured example. A useful all-rounder." Simon Taylor, SVS
---
Named after the vineyard which was planted in 1985, this is organically farmed (in conversion) Trebbiano (Romagnolo) given about six months on its lees. Very ripe stone fruit with a tangerine hint, mineral bite, dry and intense. Now-2022
---
Albana, a local grape, picked late and with considerable skin contact, giving an enticing golden hue; aromas of honey and orange blossom; and a full-flavoured, unfolding palate encompassing tangerines and star fruit. Complex, nutty, dry, and well-textured. Now-2022
---
From 90% Garganega (with 10% Trebbiano di Soave) on calcareous soils, this is lovely this vintage. With a glint of green in the glass, it's leafy, cool and fresh, redolent of greengages and lime. Floral and fruity, this offers a ripe and friendly glass, lovely to drink on its own or with a wide range of light dishes. Now-2023
In 2019 we found a winner to work with in Soave in the shape of young Davide Mainente. His family own 12 hectares of vines, both near the town (the Cengelle vineyard) and in the Classico hillside sites such as Pigno and Tenda. His wines are winning rave reviews in Italy and here from the UK press and our customers alike. Thanks to his wish to build his sales in this country with us, they remain extremely good value.
Soave, based on the Garganega grape grown in vineyards east of Verona, is hugely under-rated here. It's one of those wines (like Muscadet) that the supermarket buyers murdered twenty years ago, pushing the co-ops to produce so much volume from the pergola-trained (and irrigated) vines that the end result became mean and watery, albeit cheap. But true Soave, from top growers such Pieropan, Anselmi and Inama is such a delight - and Davide at Corte Mainente is challenging these luminaries.
---
Believe it or not, we are selling this wine for the same price now as we were in 2019, testament to the value to be found here. 100% Garganega grown on red and black volcanic soils in a single vineyard in Pigno, known as one of the best terroirs in the hilly Classico zone and one of the official crus recognised in June 2019. This is a step up on the wine above, with more volume, texture and intensity. Following a scent of white flowers, it shows hints of almonds and white pepper. Finishes vivid and fresh. Now-2024
---
Because Nettroir is made from a selection of Davide's best grapes across all his sites, it's only a Soave rather than a Soave Classico. From grapes picked late for full maturity - note the higher alcohol - it's left on its fine lees for a year to develop complexity and half is aged in old barrels. Very ripe and concentrated, with impressive intensity of plum, ripe melon and citrus flavours just tinged with subtle oak. Vibrant, powerful and exotic. Now-2025
---
Exclusive to Stone, Vine & Sun
We source our amazing wines from small independent winemakers and as such you're unlikely to find them anywhere else in the UK.
Due to their exclusivity, these beautiful Italian white wines may sell out. If any of our Best Light & Bright Italian Whites for 2022​ should become unavailable, you can view our full range of Italian wines on the website or you can get in touch with us & we'd be delighted to suggest some incredible alternatives.