Top Languedoc Reds for 2022
1st November 2022
Once again our twenty years of experience sourcing top Languedoc wines has been rewarded recently with a series of stellar reviews on jancisrobinson.com, including featuring as Wine of the Week a fortnight ago.
We've long been committed to the wines of Languedoc-Roussillon consistently uncovering a well-loved range of styles, appellations and producers. Over the years, our dedication to Languedoc-Roussillon wines has seen us previously receive the 'Languedoc Specialist Retailer of the Year' award from Decanter.
"Stone Vine & Sun has long been committed to the wines of Languedoc-Roussillon but its list has not stood still, covering an excellent range of styles, appellations and producers, from classic to new wave – testament to frequent buying trips and the dedication of the team."
Olivia Mason, Decanter.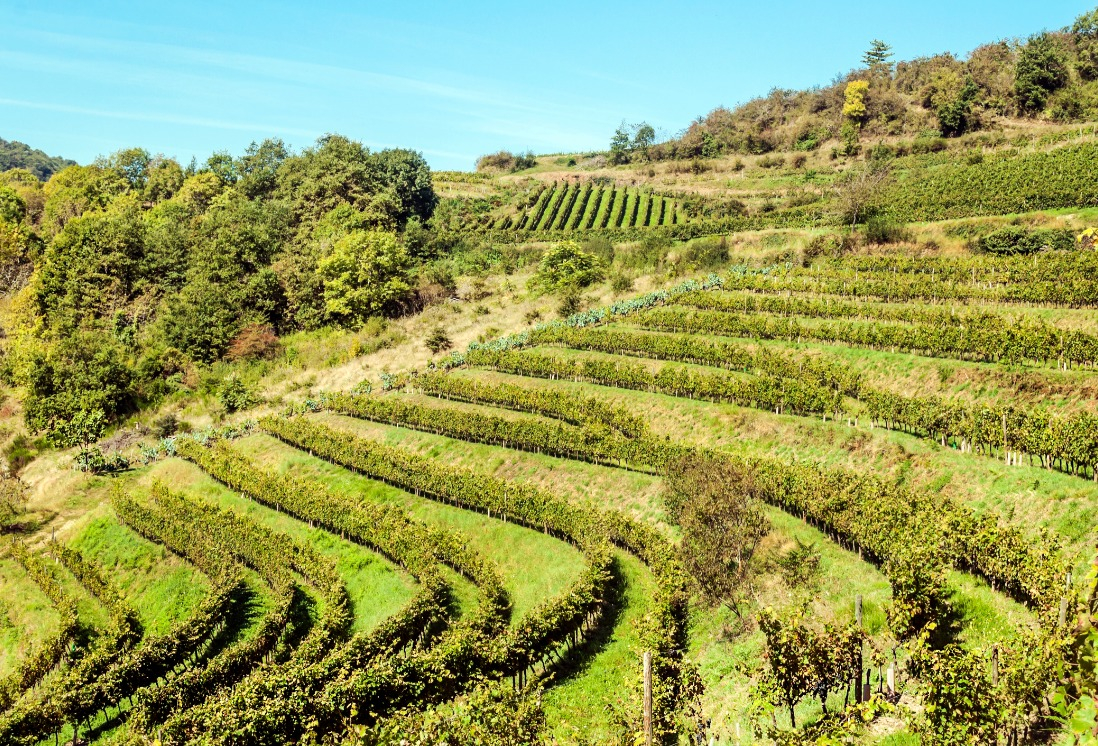 These four, in descending price order, are terrific Languedoc reds, all perfect for drinking this autumn and winter.
---
Wine of the Week, jancisrobinson.com, 14th October 2022.
"This particular wine, their flagship Terrasses du Larzac, 2019 vintage, is a blend of 50% Mourvèdre, 30% Syrah and 20% Grenache. It's aged for 13 months in 400-litre used barriques. And it's a wine that speaks so clearly of its home, balancing the piercing freshness of Larzac with Mediterranean warmth, in a spicy way, rather than an alcoholic way (13.5%). Géraldine and Xavier have managed to capture the wildness of the terroir, but they've avoided the thick, bullish tannins that can sometimes dog the Mourvèdre-dominant Larzac wines.
My tasting note reads, 'Tangy and intense, almost precise, but with a folksy, edgy, indie, minor-key lilt. Kate Bush meets Steve'n'Seagulls with a dab of home-made tomato ketchup. Fermented plums, dried tomato vine leaves, sumac and raw, something very much like steak tartare. Dusty-silk tannins. Just wonderful. Off-beat, but not missing a beat. Just on the right side of quirky, but seriously complex.'
It's drinking beautifully right now, but will be just as good for several years to come. I wouldn't bother to age it, though, personally. This is the perfect autumn wine, perfect for autumn food: bacon, butternut and puy lentil salad; chickpea and red-pepper curry; shepherd's pie. It's a wine for the moment".
Tamlyn Currin, jancisrobinson.com; and scored 17/20 on 14th August 2022
Consistently the most elegant and ageworthy wine in our Languedoc portfolio, distinguished by the high proportion of Mourvèdre (about half, plus Syrah and Grenache). Savoury and spicy underpinning. There is tannin but it melds in perfectly with the black fruit. Delicious now but will keep beautifully. Now-2026
---
"Full bottle 1,312 g. Certified Ecocert organic. 50% Syrah, 40% Grenache and 10% Mourvèdre, no oak.
Smells of tinned strawberries, peppermint and prunes stewed in tea. In the mouth, it's damson jam and white pepper on toast. The tannins have the delicate tug of cold-brew tea, and they're wrapped in swathes of fine-gauze tea-soaked fruit that has a cooked-red-fruit profile but is deeply savoury at heart. A beautiful expression of La Clape"
16.5/20, Tamlyn Currin, jancisrobinson.com, 1st Sept 2022
This is a blend of 50% Syrah, 40% Grenache and 10% Mourvèdre and is organically certified. The warmth of the beautiful South really shines through in this wine. Unoaked, it is a celebration of silky black fruit flavours, blackberries, and black cherry, with just a little spice on the finish. A truly joyous wine. Now-2025
---
Full bottle 1,241 g. Grenache, Carignan, Syrah, Mourvèdre, Cinsault. Hand-picked.
Peonies, cherries and full-summer ripe strawberries. A deliciously sappy, bodacious bundle of the ripest of summer-berry fruits. Bitter-orange acidity. Tannins as shiny and slim as cherry skins. Pink peppercorns, Sichuan peppercorns. Wonderful bite that fills the finish with sweet, citrusy bite.
GV, 16.5/20, Tamlyn Currin, jancisrobinson.com, August 2022
Nostre Mescladis translates as "our blend", reflecting the approximate proportions of vines across the family vineyards: about 40% Grenache, and 20% of each of Syrah, Mourvèdre and Carignan, all given a long maceration to develop great depth of flavour but vinified and bottled unoaked. Blackcurrant and black cherry, layered over rosemary and a little pepper. Long. A winner. Now-2024
Vincent Visseq's story is similar to that of so many of our French partners. His family had been supplying grapes to three local cooperatives since the 1970s, but Vincent decided he wanted to make wine himself. Having studied winemaking in Montpellier and with experience at Château Capion, a grand local estate, and a vintage in the Goulburn Valley in Australia under his belt, he has been steadily taking back the family vines since 2009 as the grape selling contracts expire.
Vincent believes in a simple and precise regime: working hard in the vineyard, harvesting solely by hand, cosseting the bunches and putting all his wines into stainless steel tanks only. Some of his wines are IGPs made from single varieties (see also his Mourvèdre rosé) but our favourite amongst his reds is his Terrasses du Larzac, where the rules of the appellation demand at least three grape varieties in a blend.
---
Full bottle 1,154 g. Certified Ecocert organic, V vegan and vegetarian. Pinot grown high in the Pyrenees.
Wildly fruity and sage-scented ripeness. A whiff of fresh damp mushroom. Bursting with fruit. Rose hips, apricots, tiny wild strawberries. Dust. Goji berries. So much right-there deliciousness. The tannins take the fruit around whizz circuits like a pair of old-fashioned roller skates. This is the ultimate in-the-moment wine. I've tasted this three times over five days and every time I want to drink this wine, soak it up, glug it while listening to something infinitely uncool very loudly. Every time, the fruit seems to intensify in its sweetness and the structure of the wine opens its straw-scented savoury weave so the wine becomes, simultaneously, more playful and a little more serious. Ridiculously cheap. Buy this by the case. It's so pure and wholesome that a bottle would surely count as your five a day…
VVGV 16.5/20, Tamlyn Currin, jancisrobinson.com, 20th July 2022
A Pinot from the cool hills of Limoux. Denser and more black cherry-fruited than usual in this vintage, with just a lick of tannin. Easily the match of a lot of Bourgogne Pinot Noir. Now-2024
---
Exclusive to Stone, Vine & Sun
We source our amazing wines from small independent winemakers and as such you're unlikely to find them anywhere else in the UK.
Due to their exclusivity and incredible value, these beautiful whites may sell out. If any of our Top Languedoc Reds for 2022​ are out of stock, you can view our full range of Languedoc wines on the website or you can get in touch with us & we'd be delighted to suggest some incredible alternatives for you to discover.