About
Wine Blog
All the latest and other musings from Simon.
Tuesday 16th February 2016 12:42pm
Great new wines from the Cape
It's a quiet time of year at SVS for sales: the fun is seeing what's arriving in the warehouse, and in particular lots of new wines from South Africa.  In the autumn I did a buying trip to the Cape, the first for four years, and wow, did I notice a change for the (even) better.  We have long championed South African wine, winning the International Wine Challenge award for Specialist Wine Merchant in 2010, but now the country has become a perfect hunting ground for Stone, Vine & Sun, buzzing with bright young men and women crafting intriguing, small volume wines. Just outside Cape Town, back in September, I kicked off with The Young & The Restless Tasting (presented by the weirdly named Zoo Biscuits), a select but stimulating tasting of some twenty of the Cape's young stars. We will be working with two of them, Gavin Brand at Cape Rock (wait for the Capa Roca, a blend of Portuguese varieties); and Leon Coetzee at The Fledge & Co (as in a fledgling, soon to fly).  Like many of this gang Leon doesn't own vineyards, but he is adept at sourcing great grapes, in some cases from unlikely places.  I believe Leon's wines will create the same buzz as Pieter Walser's from Blankbottle did when we introduced them five years ago. We are shipping a superb old-vine Chenin, a white Rhonish blend, a terrific single vineyard Pinot Noir and a cool, understated Syrah (definitely not Shiraz) from shale soils in Tradauw in the Klein Karoo, which comes in at a refreshing 13.2 degrees.
But that's not all we have coming.  We have sung the virtues of the great Chardonnays from Chamonix and Ataraxia, but as these have rightfully become more expensive, we were determined to find a classy cool climate Cape Chardonnay that we could sell more reasonably: so step forward Domaine des Dieux, a small estate just above Ataraxia at the top of the valley in the Hemel-en-Aarde Ridge zone. Their 2012 Chardonnay arrives any day now, and at £12.95 this is stunning, a full-flavoured, perfectly ready to drink oaked Chardonnay of concentration and length. We are going to sell a lot of this…and their Pinot isn't bad either!
From the classic to the off-beat: already here are wines from Lemberg in Tulbagh: Pinotage, to be sure, but also two remarkable whites: a dry, mildly oxydised, and almost savoury Harslevelu  (the grape of Tokay); and Lady, a Viognier and Harslevelu blend, creamy, rounded, intriguing and persistent. We are not wilful – we don't buy wines for their weirdness alone,  but we are not frightened of the unusal so long as it tastes great!  
So….  Await our big South African offer at the end of March: as wines from a whole new bunch of growers join the old favourites like Cederberg, Chamonix and Ataraxia.
Monday 2nd November 2015 13:21pm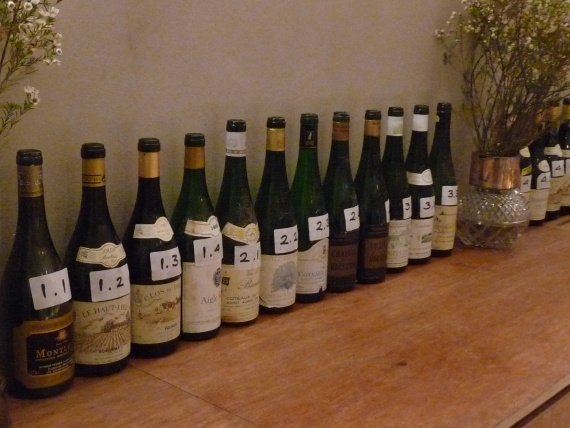 1989-90 Sweet Loire with Jancis Robinson, MW
It's not often one gets to taste 29 25 year old wines in the company of the world's top wine writer: it's even rarer if these wines originally cost between £8.50 and £23.99 a bottle! But at 10.30 on Saturday morning I sat down to taste six flights of sweet Loire wines from the two vintages of 1989 and 1990, widely acclaimed in the region to be the finest since 1947. Here are some conclusions.
First, by modern standards many of these wines were not that sweet: Moelleux wines in the Loire then tended to 30-45 grams of residual sugar per litre, and whilst many wines in these two super hot years obviously showed a lot more than that, many of the wines would now be classified as demi-sec - although none the worse for that (Deletang's 1990 Mountlouis Les Batisses, Moelleux was brilliant in this vein, silky, spicy and long). Chenin's best quality is to keep acidity even in picked very late. As a result no-one present was overwhelmed by sugar and some wines were delighfully refreshing for bottles a quarter of a century old.
Second, there was no question that the three flights of 1990s were both more consistent and more interesting than the 1989s. Two reasons?  In 1990 there was more botrytis and that gave more marmaladey richness and complexity to many of the year's best wines; and perhaps the growers' winemaking was more assured with one hot vintage already under their belts (some had also invested in refrigeration as well).  Charles Sydney, the English courtier resident in the Loire, had told me that 1989 was the last of the old vintages, when the quality of the wines was determined only by the weather, as opposed to 1990 as the first of the new, where improved viticulture and winemaking became more significant, and this tasting bore that out.
Third, honours were pretty evenly split between Vouvray to the east of Tours and the Coteaux du Layon south west of Angers: wines from the the former were perhaps more subtle, and had less disappointments, but Quarts de Chaume also came up trumps: the 1989 Domaine de Baumard Quarts de Chaume (quince and honey, rich and powerful); the 1990s from Pierre-Bise (Claude Papin's first vintage of QdC, toffee and oranges, unfolding superbly); and Chateau de Fesles (bittersweeet, textured and energetic, with mineral and sandalwood hints). Matching them for complexity, quality and longevity - some of these wines have at least another ten years in them - if not sweetness, were Huet's 1989 Le Haut Lieu Moelleux 1er Trie (all ripe pears, lime, honey and beeswax); Domaine des Aubuisieres Vouvray Selection Grain Nobles of 1990 (really ripe and honeyed, candied oranges cut by fine acid) and Champalou's 1990 Vouvray Cuvee Catherine (concentrated, caramelly yet with a floral accent).
On the down side, we had one bottle badly corked, one bottle a little musty and several oxydised, including two of the four Huet wines on tasting - which was disappointing but not surprising in my experience.  This tasting is probably totally impossible to replicate, short of begging for a lot of bottles in the Loire (our current growers, Domaine des Forges and Pierre-Bise very kindly sent samples), as this collection, including many tiny production special cuvees, was assembled in the 1990s. This extraordinary morning concluded with a really wonderful lunch at The Portland (just one highlight alone worth a detour - intensely fungal white truffle macaroons), the recently starred restaurant run by Jancis Robinson's son, Will Lander. So hats off to the Robinson / Lander clan for a pretty amazing event!
Monday 10th August 2015 10:02am
Laithwaite's – Boutique Wines at everyday prices ?
It's a quiet Saturday in August, the sun is shining, few will come to the shop, so there's time for a meditative review of one of the UK's largest wine businesses, Laithwaites (and for those who don't know already, Laithwaite's also owns Avery's and runs just about every wine club you might have heard of, e.g. Sunday Times, British Airways, National Trust, etc. etc.). Laithwaite's tale of growth - from Tony Laithwaite bringing back a van load of wine from France in 1969 to a huge wine business operating in several countries today - is amazing.  One should be proud of this great British success story….
….BUT (there's often a large BUT in an SVS blog) this blog was prompted solely by the appearance through my letter box at home of their latest offer trumpeting "Boutique Wines at everyday prices" (and everything in quotation marks below comes from this brochure or their website). I was piqued. Leaving aside the actual desirability of "boutique" wines – as so many tend to be over-made, over-priced wines owing more to the pretensions of some rich owner than the land on which the vines are grown - this is an absurd claim.   "Boutique" has no legal status in the world of wine but it does imply small-scale and precious. In Australia the rules of the Association of Boutique Winemakers are clear: "A Boutique wine company is one which crushes and bottles 250 ton or less annually under its own label and is owned independently, i.e., not owned by a larger wine company".  Well, as to the precious idea, ignoring the discount in the Laithwaite's brochure, the average bottle price of the wines featured, is, in theory (for more of the "in theory" part, please see below) over £9.00 a bottle, not really boutique territory when it comes to wine.  
Anyway, investigation followed, and as I researched more, I got tetchier…
First, the selling pitch is based on claims that "boutique" wineries are "queuing" to work "so closely with wine drinkers", with, wait for it, "no middlemen, no money wasted on expensive marketing".  Umm, what exactly is Laithwaite's but a middle man? And whilst it's good news of course, that these humble peasants are spared all this marketing effort, it's bit rich to imply this cost has vanished given that Laithwaite's spends squillions every year on marketing in advertising and sponsorship!  Incidentally the idea that the Laithwaite's customers are "helping…wineries to keep costs down by ordering together" is a shameless rip-off of the more innovative Naked Wines philosophy (and it does seem a bit unfair to steal Naked's clothes!).
So who exactly are these "talented winemakers struggling along selling a few cases at a time to restaurants and private clients", these guys who are making "handcrafted wines at remarkable prices", pathetically grateful to Laithwaites for so graciously taking "the lot in one go", thus enabling them to have "more time to make great wine"? The briefest perusal of the brochure comes up with these: Vina Tarapaca in Chile, part of the VSPT wine group, Chile's second largest wine exporter; Franschhoek Cellars, a former co-operative and now part of DGB (which was Douglas Green Bellingham) in the Cape, producing a very unboutique 8,000 tons, equal to 560,000 cases a year; Martinez Bujanda in Rioja, with over 200 hectares of vineyards; Mcpherson wine with 225 hectares in Australia; and Luis Felipe Edwards, the largest family owned winery in Chile, who somehow make ends meet by picking every last grape on their 1850 hectares and exporting to 70 countries.  (Just to put this in perspective, many of the growers we buy from in France and Italy make wine from less than 10 hectares of vines, and Frank Balthazar in Cornas has just 2.25!). Doesn't one's heart bleed for these impoverished, time-poor souls, and applaud Laithwaite's philanthropy in saving them. Laithwaite's say they are selling wines "made in quantities too small for the supermarkets", but when you claim to have 100,000 thirsty customers and a turnover of £300m it's quite hard to supply them without going to the big boys of the wine world.
Next, the pricing: I examined one case of the twelve on offer in the brochure, no. 9, Pinot Grigio and Friends. This cases includes two bottles of each of four Pinot Grigios - from Romania, Hungary, Australia and Italy - plus a Chenin Blanc (from the Franschhoek Cellars mentioned above) and an Italian blend. The headline printed price is £105.49. (I accept the brochure is three weeks old, but when I totted up the bottle prices of the wines on their website in the case I came to £101.88). But the idea that these particular bottles are worth an average of £8.79 is ludicrous. C'mon guys…. eastern European Pinot Grigio, making up a third of the case, is just NOT boutique wine in either style or price!
Then there's the exclusivity claim - your chance to taste "wines not otherwise seen in the UK!".  Wow, lucky you. The reason these wines are not otherwise seen in the UK is that they are specially made, in some cases in Laithwaite's own winemaking facilities in France and Australia, and labelled solely for Laithwaite's (and their numerous affiliate clubs). This is very bad for two reasons: the obvious downside is that they can control pricing and make sure price comparison is impossible. (When you do find a wine on their website which is available elsewhere Laithwaite's look expensive. For example Guigal's white Cotes de Rhone is £13.99 on their site, but available from the Wine Society at £9.95 or widely available from independents at £11.95).  But, far more serious, if Laithwaite's are controlling what goes in the bottle, you aren't necessarily getting a wine with authenticity and local character (god forbid it should be unfiltered and have sediment in it, as that might lead to complaints and refunds): you will be getting a safe, boring bottle for MOR taste.
Then there are the names and brands. I am all for making wine names accessible and demystifying wine, but is it helpful to have Romanian wines branded Paris Street? Surely someone casually looking at the bottle might just think it was from France - or is that the idea, duh?  Or Spanish wines sold under Lime Leaf, Silver Route and Cherry Orchard?  When it comes to Italy the highly paid branding team at Laithwaite's must have been giggling as they dreamed up catchy names. Basically they like to add an O to the end of english words - so Laithwaite's purvey wines called Massivo, Il Bruto and Visionario.  Can anyone take this seriously? Somehow I just can't see someone with boutique wine aspirations naming their wine Massivo.  Why stop there – may I propose Diluto for a light dry white, and Ruffo for a rustic red?  
Then there's the hyperbole. Do their copywriters really believe that the 2013 Orange Grove Chardonnay from Spain at £5.99 is "world class Chardonnay"? Do they get out much?  Do they actually drink wine at all?
Then there are the introductory discounts - £50 in the case of the brochure I received.  This would enable me to buy a case of wine with free delivery at £4.39 a bottle, with two free glasses thrown in. It's a great deal by any standards, but if I send that siren coupon in there are consequences. I will get another case 12 weeks later, if I forget to cancel, without that great discount; and I will be subject to warm-calling if I don't order more, by a huge team of client advisers trained to push particular wines; and if I still don't order my name will be transferred to another branch of their organisation who will also send me their lists. Finally, if you do give them the feedback they request, then, google-like, their algorithms will ensure you are pushed more and more of the same. Returning that coupon is like signing your palate away to the vinous devil.
Laithwaite's is a great business, with thousands of happy customers. I have tasted lots of perfectly good (if often unexciting) wines from them, and they work with plenty of excellent partners – Luis Felipe Edwards in Chile being a good example. But if the gap between the claims made in the "Boutique wines at everyday prices" brochure and the reality of their business can't be investigated under the Trade Descriptions Act, at least it can be challenged by someone who genuinely does work with small growers.  Just as they have cynically adapted their marketing spiel to make Laithwaite's look more like Naked Wines, their fast growing challenger - "Together it's easy" it says on the front of their brochure - so they shamelessly continue to pretend that they are supplying small production wines from artisanal growers. When we started SVS over a decade ago, one customer was kind enough to describe us as the "the new Adnam's". I took that a compliment, given Simon Loftus's great ability to seek out interesting wines. I am glad to say no-one has ever called us the new Laithwaite's. But then I could just be jealous of that £300m turnover….
Monday 20th July 2015 11:48am
IWC Dinner, 16th July 2015
As promised, more on the IWC dinner where SVS was awarded the Specialist Wine Merchant for Chile award. It was quite an evening. Much as I don't want to bite the hand that awards me, the inner old fart in me had some issues. OK, I can just about cope with the disco lights and the incessant, pounding pop music (does this have to punctuate everything now, from international cricket downwards?). BUT... the dinner. If you are going to charge 200 quid a ticket, and put bottles of trophy or gold medal-winning wines on each table, you must serve decent food. But what did we get? OK, I didn't see the crib sheet, but what I appeared to be served was a roundel of Shippam's meat paste with pickled vegetables; followed by some dark-skinned fish in sweetish teriyaki sauce. So the august organisers of an event celebrating the world's wines managed to come up with one course dominated by vinegar and one by sugar...both well-known wine-destroyers. No red meat,  aaargh....A real shame, as it was in many ways a jolly occasion with some top merchants and producers there. The best dressed group were the Japanese, there in force for sake awards, but I also loved coming across the couple in the photo, winner of the Taiwan Fortified Trophy (yes, there's a big world out there....)
Friday 17th July 2015 12:06pm
IWC Dinner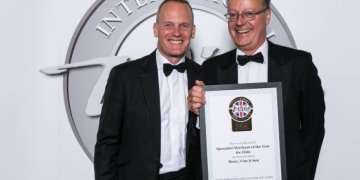 Back after midnight (driving, so a dry evening, felt a bit weird in this crowd) from the annual International Wine Challenge dinner, clutching the award for Best Specialist Merchant for Chile (tiny slingshot carrier from Hampshire sees off the Goliath of the splendid Wine Society). A longer report will follow....
Wednesday 17th June 2015 15:58pm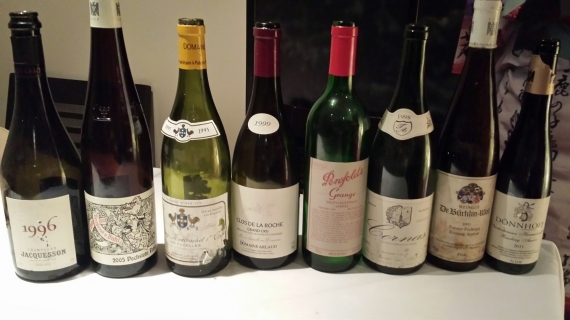 Gordon's send-off from SVS
A sad event last Thursday - Gordon Coates's leaving party after seven years at SVS - was at least enlivened by some splendid wines, with somewhat of a focus on Riesling, one of Gordon's favourite grapes. The venue was Kyoto Kitchen, in the centre of Winchester, where brilliant, very fairly priced Japanese food is served by Dan and his crew.
We kicked off with a bottle of Jacquesson 1996, this wonderful micro house's vintage Champagne; bready, savoury and bone dry. First arrivals (of a lot of dishes) were a selection of tempura plates, and a remarkable pairing ensued: soft shell crab tempura with Domaine Leflaive, 1995 Puligny 1er Cru Les Pucelles (in perfect condition - wahay!). The wine was golden, rich, honeyed and buttery, but with enough acidity to cut the tempura perfectly. Then it was Sushi and Sashimi time, accompanied by Von Buhl's 2005 Pechstein Forster Riesling Spatlese Trocken from the Pfalz, young, grapefruity  and vital. Next up duck, with Arlaud's Clos de la Roche 1999, so open, expressive and still showing strong primary fruit.  Rare grilled beef followed, with a Syrah / Shiraz horizontal: 1998 Grange - ridiculously young and blackcurranty - against 1998 Thierry Allemand's Cornas Chaillot, also youthful but more earthy, and standing up well next to Australia's most famous wine.
We closed with more Riesling: by pure chance a wine from the same vineyard as Von Buhl's above, the 1994 Forster Pechstein Riesling Auslese from Dr Burklin-Wolf - barleysugar sweet and petrolly - and Donnhoff's 2011 Niederhauser Hermannshohle, Riesling Auslese Goldcap - a mere 8.5% of alcohol (no bad thing at the end of this evening!) and refreshingly limey and zingy.
Gordon, can you come back so we can do this more often?
Friday 5th June 2015 16:04pm
International Wine Challenge - 2015 Specialist Wine Merchant Awards
SVS nominated for Chile and Languedoc-Roussillon
The shortlists for the IWC Specialist Merchant awards were announced today: Stone, Vine & Sun is in the frame for Chile and Languedoc-Roussillon. We merely have to overcome the mighty and excellent leviathan of the Wine Society to take the laurels for Chile; for Languedoc-Roussillon we are battling with Wiltshire-based Yapps (a worthy merchant but a relative newcomer to this region long championed by the team at SVS). 
Results in late July..... 
Friday 5th June 2015 15:20pm
Two Great 1997 Red Burgundies
Two 1997 Cote de Nuit 1er Crus opened in the last week demand a review: Roumier's Chambolle-Musigny Les Amoureuses and the Nuits, Clos des Porrets Saint-Georges, the monopole of Henri Gouges. The first (with simple roast chicken) was still youthful: concentrated, savoury and altogether admirable; yet the second (with last year's frozen partrdge) acually gave more pleasure, gamey, wild and excitng, with fresh acidity punctuating the fruit. These wines cost about the same in the late 1990s - but such are the vagaries of taste and reputation that Roumier's wines now enjoy a thriving secondary market, and this top Chambolle 1er Cru is now theoretically worth fifteen times as much as the Gouges. (Had I known what the Roumier was worth I may not have opened it!) 
Thursday 30th April 2015 15:18pm
Bordeaux 2011-2014 (tasted 29th April 2015) 
Each spring a bunch of top Grand Cru Classe Chateaux come to London to present their wines from a sequence of vintages: the vintages showcased yesterday were 2011 to 2014 inclusive, making this a great chance to taste a wide range of left and right bank wines from a series of vintages of distinctly variable quality. There were real glories (it was the first time I have ever tasted three vintages of La Mondotte, a boutique property on the plateau of St Emilion), but my real purpose was to try to ascertain the specific qualities of each vintage, following a trip to Bordeaux earlier in the spring. Now it's always hard to generalise, especially when the Chateaux being tasted are so grand and rich as to be able to iron out the differences between the years by fantastic vineyard management, strict selection and the most technologically advanced wine-making techniques on the planet (sorry, have I spoiled your illusions?). Nevertheless what's the point of writing a blog unless one is going to be opinionated....
So, in  summary, here goes... 
2011    Here's a non-opinion. The 2011s are hard to judge right now. Many are surly adolescents: often closed on the nose, and with disparate chunks of fruit, acid and tannin swirling around in disharmony. Many are grippy right now. They definitely need a lot more time. I do have some concerns that some folk tried a bit too hard in 2011 (trying to match 2009 and 2010?) and as a result some wines are a bit over-extracted. But there are certanly some fine examples around, for example in the von Neipperg right bank stable. 
2012    I like this vintage. Almost all my favourite wines were 2012s. There's very pretty red fruit in a lot of the wines, and not just in the earlier-maturing right bank Merlots either. OK, it's not a blockbuster year, but I think 2012s will give a lot of pleasure, unlike...
2013    Don't. Don't buy anything from 2013. There is SO MUCH wine in Bordeaux that you just don't have to. Don't listen to merchants who have had to buy the wines in order to keep their allocations for better years. Don't believe oleaginous sommeliers who will sing its praises (because they will be buying it cheap in a few years time). The wines are like 2007, often superficially pleasant - with tarty noses and upfront fruit - but hollow, flabby and insubstantial behind. One expensive 2013 Pomerol I tried tasted almost corked (remember that off flavour in cheap Bordeaux of old?). Remember, just don't.
2014    Very promising. But how anyone in all seriousness can take buying decisions on wines worth £1,000 a case or more on the basis of a mocked up sample prepared the moment a wine has ceased fermenting, I just don't understand. This is one of the most absurd features of the Bordeaux en primeur market - a market which is basically irrelevant until the next great vintage comes along - and then the prices will go up 20-40% again, making wines from the top Chateaux an exclusive game for the global vinoriche. 
A final word, as who wants to end crabbily?  Some highlights: Smith Haut Lafitte 2012 and 2014, d'Aiguilhe 2012, Clos de L'Oratoire 2011, Canon 2014, Rauzan-Segla 2012, and Leoville Poyferre 2011 and 2012.
Friday 23rd January 2015 14:01pm
More on Red Burgundy 2013
My final word - actually strictly speaking not at all my final word as this is part of the verdict of Jancis Robinson MW, who tasted in the autumn in Burgundy and in London recently. (Posted today, 23rd Jan on jancisrobinson.com)
"The most obvious fault in 2013s is a lack of full ripeness and in some cases an excess of acidity.
The second most common characteristic is a lack of concentration. For many palates this is no fault in burgundy. We don't want our burgundies to be massive wines. But most 2013s are notably lighter in body than average"
Sorry, but we can't just start charging people over £30  bottle to ensure ripeness.  Look at Oregon.Chile, New Zealand or even South Africa. Or go back and buy 2010s, 2011s or 2012s from Burgundy. Enough said on this topic.