About
Wine Blog
All the latest and other musings from Simon.
Tuesday 21st November 2017 12:08pm
Slovenian Rhapsody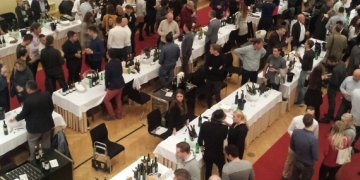 It took just an hour to fall in love with Ljubljana: that's how long it to arrive in the city centre from touchdown.  It's a beautiful city - a toy town, to be sure, with a population of just 275,000 - with the style of Italy and a touch of the elegance of Vienna mixed with an idiosyncratic, multi-coloured Portmerion-like (think The Prisoner) character all of its own.  A large part of the centre is pedestrianised, making it the quietest capital city I have ever visited, and one can wander freely among the mix of 17th century Baroque churches, worthy civic palaces, bustling market and art nouveau facades. I urge you to go – and off season, as I did, to best enjoy the charming peace.
I was there for the 20th Slovenian wine festival, held in two city centre hotels, a chance to taste wine from all over this small country. The grapes grown in the different wine regions in part reflect the country's neighbours:  Malvasia (Malvoisie) on the Istrian shores of the Med; Sivi Pinot (Pinot Grigio), and Rebula (Ribolla Gialla) and Refosk (Refosco) in the northern parts of the Primorska , the western region near Friuli; the reds Zweigelt and Blaufrankisch in the north east near Austria. Secondly, all over the country there is surprisingly good Sauvignon Blanc and Chardonnay; Merlot , Barbera and Cabernet Sauvignon (often blended). A real discovery was excellent Pinot Noir, usually in a restrained, old world vein, from the Vipava Valley.
What are my conclusions after just a couple of long tasting sessions?  Well, as a catholic wine drinker, I came across lots of wines that I would enjoy drinking myself; but then the protestant merchant side kicks in and thinks, yes, this glass is impressive, but are SVS customers ready for deep gold, dense, four year old, Rebula?  Or 2017 Svicek, a crisp, young red wine to be consumed immediately? Or, frankly, most Refosk, whether from the famed red soils of Kras or not.  Some of the reds, are, without beating about the bush, problematic.   There's often a lack of complete ripeness; and off flavours which are reminiscent of low-level cork taint and may reflect poor cellar cleanliness.  However, one can see the point of some of these raw and youthful Refoscs and Zweigelts: their acid bite would go well with the local diet, and in particular the numerous pig dishes (a starter in a Slovenian restaurant one night served up pig six ways: two types of ham, smoked sausage, liver pate, little morsels of crackling and, for moisture, white and creamy pork fat!).  The crunchy local reds, as young Loire Cabernet Franc, can cut that richness.
The whites, which fortunately make up over 2/3 of production, are definitely more interesting, successful and marketable.  The examples from the north-west are just as fine as those from Friuli across the border in Italy. I tasted one Sivi Pinot (Pinot Grigio) which was sensational: mid gold, honeyed and powerful, yet totally dry. Likewise in the right hand even Tocai Friulano - which is actually the humble Sauvignonasse - could give excellent results.  Perhaps most distinctive are Rebula and Sipon (Furmint), the former made in a wide range of styles from light and fresh to oaked and weighty.  The locals often seem to like their dry whites - even Sauvignon Blanc - aged, with mid to deep gold colouring, and complex flavours of bitter oranges, taffeta  and mushrooms. Fascinating as these are, like old Savennières, are they commercial outside Hackney and Hoxton?
As I write I have barely seen a price – all depends on that. The good growers sell their wine with ease locally (most wine produced is drunk within this prosperous country) and only time will tell if they might drop their prices to satisfy the begging of an impecunious British merchant offering a devalued currency and in order to see their wine drunk in the most interesting and competitive wine market in the world.
Wednesday 18th October 2017 16:40pm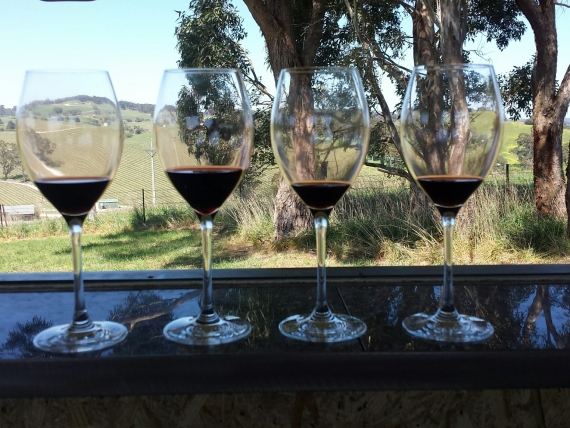 "Working" in Australia IV: Conclusions
Before we get to the dull, gritty bit about wine, here are some observations about life down under:
•    Unless you are very wealthy or live very close to a city centre, you live in a bungalow
•    Wildlife: whilst I saw numerous kangaroos as roadkill, they were only spotted twice in the wild. Likewise the scores for koalas, wombats, bandicoots, echidnas, snakes etc. were all zero. Far more exciting are the birds; the galahs, parakeets, sulphur-breasted cockatoos, even the pesky dive-bombing magpies are spectacular looking and their dawn chorus is exotic and thrilling, full of liquid trills and the notes of strange wind instruments
•    Southern Australia in the spring is stunningly beautiful: a vivid green landscape punctuated by the white trunks of eucalyptus, and the full dams reflecting the blue sky.  Much of it looks like exotic English parkland!
•    It's a wealthy country. The average income is over Au$80,000, so nearly twice the average income in the UK (at the current depressing exchange rate); and I bet they get to keep more of it too. Aussies are quite happy to drop into the cellar door and pay Au$40-70 (£24-42) for a bottle…
Before moving on to a discussion about the  wine, first I have to qualify any remarks by stating that I did not visit the Riverina, or see the bulk side of Australia (i.e. vines broiling in sub-tropical heat ripening huge volumes of grapes swollen by irrigation). Instead the focus of my trip was on the cooler, quality-focussed regions, where I witnessed a vibrant, healthy, exciting wine industry. Here are the impressive strengths amongst the wines:
•    Fantastic, ageworthy Chardonnay and Pinot Noir from all over the cooler zones, and in particular the higher parts of the Yarra Valley and the Adelaide Hills
•    Stunning Grenache – best I think on its own rather than within a GSM blend – from McLaren Vale
•    Cool climate Shiraz / Syrah (as the latter is creeping on to Aussie labels) from Canberra, the Yarra and the Adelaide Hills. This can be beautifully perfumed - think violets and roses – lightly spicy and highly refined
•    In the making – super reds from Italian varieties, especially Nebbiolo and Sangiovese
And the future is great, as there is infinitely more land suitable for vineyards – in cooler zones; on south-facing slopes; and on low fertility, ancient rock-based soils.
Here are the challenges:
•    A strong economy.  The minimum hourly wage is Au$17.70, or £10.50, an hour. If the Cambodians who do the vineyard work are all being paid this - and their managers, the winemakers, salesmen etc. a whole lot more -  then it has to impact on the cost of production.
•    Water / Climate Change. The elephant in the room.  It may have been freezing on a windswept hilltop in the Strathbogie Ranges in September, but the sun is evilly hot down under.  Already the industry is working hard to manage the vineyards accordingly (for example planting rows east –west rather than north-south to reduce exposure). A shortage of water, necessary for irrigation in the long hot summers, may also cramp development.
•    Disease: Phylloxera and Eutypa.  Who would believe the Phylloxera bugs which devastated European vineyards in the late 19th century are still munching their way across Australia? But they are, recently moving into the Yarra Valley. Optimistic Australians look on the necessary replanting as "an opportunity" but it would be tragic if the ancient bush vines in the Barossa, for example, had to be grubbed up. Eutypa is a fungal disease which causes arms or the trunk of a vine to die back (hence d'Arenberg's Dead Arm). You can spot it in the vineyards – not a pretty sight.
And here are the man-made errors:
•    A tendency to pick too early, making for weedy Chardonnays, flavourless Viogniers and even green and stalky Cabernet Sauvignons. Presumably this is in the pursuit of "elegance", lower alcohol - and being wilfully different - but these styles don't do it for me.
•    Oak.  This is complicated. Australians used to put their wine in barrels made from American oak, lending that vanilla sweetness to wines of old, but now most producers are using smarter and less strongly scented French oak. I find they are still using just a bit too much new or nearly new oak for my taste, in particular with Grenache, which really doesn't take to oak at all, but also with Shiraz and Pinot Noir. When the fruit is as good as it is why not let it shine more?
•    Wines called "The …….".  Chester Osborn at d'Arenberg may have started this 30 years ago (The Dead Arm Shiraz etc.) , but the moment has surely long gone. One producer near Canberra, the capital produced a whole range of "The Frontbencher", "The Ambassador", "The Press Gallery" etc.  Arggh.  I am now so bored of "The……." wines that they may be banned from SVS shelves.  
•    My blind spot - dry Riesling from all over Oz.  Tasted lots, sorry, just can't get that excited: the wines are obvious and one-noted.
So that's it - over two weeks: I tasted examples from over 110 wineries; I have notes for over 390 wines (but tasted a lot more over mildly inebriated dinners); and I ate wonderful food, from sweet oysters and delectable Asian dishes to barbecued sucking pig and Wagyu beef. Thanks to Wine Australia for financing this extraordinary and memorable trip.
END – back to grey Blighty….
Saturday 14th October 2017 07:46am
"Working" in Australia III: Adelaide Hills; the Clare, Barossa and Eden Valleys; McLaren Vale
The last leg on my Australian tour, and the pace has accelerated. In four days I went through:
•    A superb tasting of the wines at Ashton Hills, the tiny but historic vineyard planted by Stephen George in the 1980s – every one superb, from fizz  to Riesling to one of Australia's top Pinot Noirs.
•    A mad (and drunken) tasting of mainly natural wines from Basket Ranges: as usual encompassing the spectrum from the very good to the bad and the ugly (if I wanted my wine to taste like beer I would buy beer – it's cheaper). See below for the Sunday afternoon carnage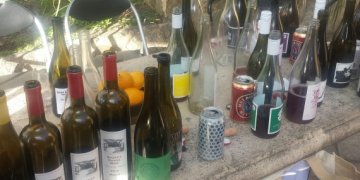 •    Short flights of top quality Clare Valley Riesling and stellar Barossa Shiraz. We were spoiled – personally I preferred the elegance and purity of Henschke's 2014 Mount Edelstone Shiraz to the more earthy (and much more expensive) 2012 Hill of Grace.
•    A fascinating tasting of Barossa wines from what Wine Australia called "next generation winemakers".  (This seems to imply anyone younger than me! ). Some brilliant and not over-priced wines here from, among others, Dave Lehmann at David Franz, Ben Chapman at Tomfoolery Wines and Michael Hall Wines (unbelievable coincidence – Michael was one of my former colleagues at Sotheby's who dumped the glamour of the Geneva Jewellery auctions, retrained in wine in Australia and now makes some very fine Syrah / Shiraz and Chardonnay).
•    Flights of cool climate Adelaide Hills Chardonnay and Shiraz from Geoff Weaver, Tappanappa, The Lane and Shaw & Smith (the latter particularly impressive given they make decent quantities of their M3 Chardonnay and estate Shiraz).
•    Two wide-ranging tastings of "alternative" varieties from the Adelaide Hills and McLaren Vale; whites from Gruner, Fiano and Savagnin (for some time time planted as Albarino and largely grubbed up once the locals realised they had been sold a pup); and reds from Italian and Spanish red grapes, sometimes blended. (It seems to me Tempranillo is a waste of time in Australia - or will be for a long time until the vines age – as I tasted confected rosés and simple reds in every region).
•    Superb McLaren Vale Grenache (and Grenache blends) from Thistledown, Gemtree, Chapel Hill, Ministry of Clouds and others – wines which rival the best of the southern Rhône, and often from even older vines.
•    A valedictory dinner (and sunset over the ocean) at the Star of Greece restaurant, at which so many wines were poured that I can't remember any bar d'Arenberg's famed (and pretty impenetrable) Dead Arm Shiraz, brought by the extrovert Chester Osborn.
Saturday 14th October 2017 06:34am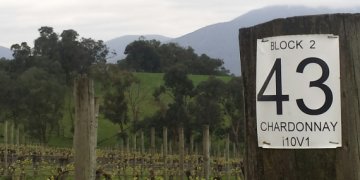 "Working" in Australia II: the aspiring, the established and the Italian: Canberra; Yarra Valley; and King Valley.
This is a tale of three Australian wine regions. First up was Canberra, centre of a small but reportedly up-and-coming wine industry. With two notable exceptions, Clonakilla (fabulously perfumed and ageworthy Shiraz of great elegance) and Helm (crisp Riesling and smooth Cabernet) the wineries here disappointed. This may be a cool climate zone with huge potential but too wide a choice of grape varieties and a lack of gritty grape growing skills and winemaking expertise are holding the wineries back.
From there it's a short plane hop to Melbourne and nearby Yarra Valley. The contrast could not be more marked: in the Yarra there's a bunch of highly experienced pros who know their strong suits are Chardonnay and Pinot Noir, have already identified the best vineyard sites  and are now making superb wines from vines of decent age. There were stand-out tastings at Mac Forbes and historic Yeringberg (vines first planted in the 1850s, pulled out in the 1920s and replanted in the 1960s) but there were excellent wines at numerous cellars.Watch this space..
Three hours drive north is the King Valley. Many of the first settlers here were Italian, and with that heritage many of the local growers have planted not just Sangiovese, Nebbiolo (some examples suggest a great future) and Pinot Grigio, but also Arneis, Garganega, Prosecco (as the Glera grape used to be called before the Italians appropriated it for their fizz), Verduzzo (a white new to me), Barbera and Canaiolo. As in the Yarra a clear focus is bringing great results, for example at Dal Zotto and Pizzini.
Thursday 5th October 2017 17:23pm
"Working" in Australia I: first impressions
After a hard day criss-crossing the Yarra Valley (source of top-notch Chardonnay and Pinot Noir, and pretty good Cabernet and Shiraz too), it's good to return home for a decent drink. My hosts Michele and Tony Jordan, he one of the pioneers of Australian wine in the 1980s, raided their cellar for me and friends last night. We kicked off with two Coldstream Hills Chardonnays, 1988 and 1990 vintages, both interesting but a bit brown and tired, before tasting a phenomenon: an unoaked Chardonnay from 1978 made at the Riverina College where Tony was then teaching: bottled in a Riesling bottle and sealed under screwcap. This was amazingly fresh and lemony, with a light petrolly note.
Four Aussie Pinots followed, the highlight being Bass Phillips Premium 1994 from South Gippsland, south-east of Melbourne: black-fruited, fat, spicy; drinking perfectly but with years of life ahead; and just 13% alcohol. Any Côte de Nuits grower would be proud of it.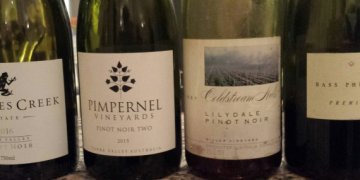 With cheese Tony produced a bottle of 1983 Grange. This had such svelte integration of black fruit and oak that l took it for a Cabernet or Bordeaux blend. Once shown the label, of course, the Syrah was obvious (haha), with savoury and peppery spice. We closed with a sticky, a Seppeltsfield "Tokay", from Muscadelle, intensely sweet and luscious but with a touch more aromatic lift than the ancient liqueur Muscat enjoyed the night before.
Who says new world wines don't age well!
Tuesday 12th September 2017 14:38pm
A wine merchant skipping up the Apennines...
Just back from walking the Via degli Dei, literally the Way of the Gods, from Fiesole, just outside Florence, to Bologna. It sounds a long way but it's under 80 miles of walking. Of course there is the small matter of the Apennines in the way, with one crest at over 4,000 feet, but it was a glorious excursion, often through tranquil woods of beech and chestnut, and occasionally marching on 2,000 year old cobblestones laid for the military Via Flaminia. We finished by tripping down the longest arcade in the world, over 2 miles downhill from the Sanctuario di San Luca to the old gate of Bologna (Tagliatelle al Ragu here we come!).
...and this is what kept the wine merchant going....
Up in the hills, far from civilisation, wine prices reverted to the level last seen in Britain in the 1980s. Here is a list from a little inn in Monzuno - and yes, these are prices in euros for 75cl. bottles of wine, not glasses.  Oh happy days... a bottle of gently fizzing, just off-dry Pignoletto to start with and a chunky Sangiovese Rubicone from Emilia-Romagna to follow - with change from £11 quid..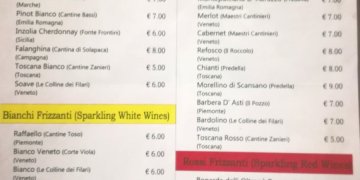 Friday 26th May 2017 17:07pm
California Dreaming...
We just received a smart and expensive brochure of the "California Collection 2017". It's a selection of the best 50 wines (from a tasting of 150, all in the UK market with large or specialist importers) selected by a panel of independent wine merchants as suitable to be sold by independents. The gushing introduction, written by a good man who should know better, closes: "..right now it seems to me that California has never been better placed to serve the UK's independent trade".  Well, I looked at this selection: the average recommended retail bottle price is £29.56. 
What planet are these people on?  Some of these wines might work at the long-term £:$ exchange rate, which is 1.60, but at 1.25-1.30? ...forget it. I know one should not compare apples with oranges: we buy very little wine from UK wholesalers and source and ship our own wine whenever we can, but around that price (remember, the average for the Collection), you can buy Cote Rotie, Pomerol or Savigny 1er Cru, Barolo or Brunello, and for a lot less some really great wines from the Cape, Chile or Argentina. Whoever financed this exercise must be sitting on a lot of stock....
Thursday 11th May 2017 16:11pm
Fearful Frost in France - price rise alert?
As we have been speaking to our French growers over the last fortnight the real scale of the devastating frost(s) which struck almost all wine-producing regions of France on the nights of April 27th and 28th has begun to sink in. The geographical extent of the frost is appalling - from Champagne southwards, and also into Piedmont and northern Spain (English vineyards were also crucified). The frost was particularly damaging as budbreak was around two weeks earlier than usual across most of France - so all those burgeoning shoots were burnt off.
Worse hit are probably Champagne and Bordeaux. The former may be 20-25% down on a normal crop, but for the latter it was the worst frost damage since at least 1991. Even the left bank Medoc vineyards near the Atlantic were badly affected, but on the right bank some vineyards fear they may have lost 60-80% of their potential 2017 harvest. In St Emilion temperatures of -4° celsius were recorded and only the high plateau was spared. In Chablis the vineyards were again badly hit - as in 2016 - but further south the vignerons of Burgundy seemed to have taken extreme measures to ward off yet another year of low yields. Hugh Liddell, owner of vineyards in St Aubin and Chassagne-Montrachet reported that:  "On our first day we woke to what we thought was very thick fog. It turned out to be smoke. Each vigneron from St Aubin to Dijon lit a damp hay bail which created a huge amount of smog. Not very eco friendly but it did the trick!!". (Apparently the supply of candles which are usually lit in the vineyards ran out!). Even in the southern Rhone and Languedoc there was significant frost damage. The Schenks at Grand Arc in the high Corbieres reported extensive blight. The difference is that they hope that, with their warmer climate in the south, the vines might recover, put out a second set of buds and still ripen a crop. This is near impossible in the north or Bordeaux.   
What does this mean for wine drinkers? For certain large regions, notably Champagne and Bordeaux, it's probably not going to have too bad an effect on prices: the former usually enjoys high yields and blends wines from various vintages anyway. Bordeaux had good-sized harvests in 2014, 2015 and 2016 and there will be a lot of wine there to sell. However, we fear horrible pressure on those regions which already can sell their wine effortlessly. The bulk price of Chablis is already through the roof after a small crop in 2015 and a frost-affected 2016. In Burgundy, if we get a very dry and hot summer - accompanied by the hailstorms which seem to afflict the region every year now - yields may be tiny. It's a horrible prospect to think of buyers from all over the world fighting over Chardonnay and Pinot already experiencing a worrying imbalance of supply and demand.
Thursday 6th April 2017 17:22pm
Blasts from the Past: Courbis, Cornas La Sabarotte, 2000
Blasts from the Past: an occasional recording of a wine we used to sell, enjoyed in full maturity. Last weekend I opened a bottle of the Courbis, Cornas, La Sabarotte 2000 with the hypercritical daughter. Soon after this vintage we stopped shipping from the Courbis brothers for two reasons: they liked a bit too much new oak for our taste; and personally they were just a bit smooth and glib. However, they knew what they were doing with their top Cornas, from vines planted in 1947. 2000 was a good rather than great year in the northern Rhone, but this wine was amazing. Dense and sombre, with a scarily open (for its age) perfume of mocha and black fruits, this was fat and velvety, flavoured with blackcurrants and savoury touches. It had so much energy and power for a 17 year old wine. We used to sell this for £30ish. I see very recent vintages are £50ish - to be honest, that looks good value if they develop like this bottle.
Thursday 1st September 2016 16:22pm
Press Release

Hampshire's Hidden Award-Winning Wine Merchant celebrates shop reopening on September 24th
Tucked away on a farm estate in Twyford is one of the country's top independent wine merchants. 2016 has been a year to celebrate for Stone, Vine & Sun, recently winning two national awards at the 2016 International Wine Challenge: Specialist Wine Merchant for both South Africa and Languedoc-Roussillon; and also being shortlisted this August by Decanter magazine as one their Top Intermediate-sized Wine Merchants of 2016. The success of the business is based on prospecting – travelling the world to find brilliant small growers, whether in France, Italy, South Africa, or South America, and introducing their wines to British drinkers.
Shrugging off any concerns about Brexit or competition, and buoyed by an increase in sales to restaurants and the growth of their acclaimed Doorstep Dozen Wine Club, the owner of Stone Vine & Sun, Simon Taylor, is investing in his warehouse wine shop in Twyford by expanding and improving the retail space and increasing the capacity for tastings.
Stone, Vine & Sun is planning a celebratory reopening on Saturday 24th September, 9.30am-6.00pm. As well as the chance to see the new look shop and taste a large selection of bottles, all wines will be discounted by up to 20%. Delicious wood-fired pizzas will be available with a free glass of Chianti to accompany them; there will be a cheese and wine matching opportunity, with the chance to try a range of cheeses with varied wine styles; and a light-hearted blind-tasting competition to win a magnum of Champagne. Hampshire cricketer, Twyford resident and wine enthusiast Jimmy Adams will cut a symbolic ribbon on the new shop at 12 noon.
Simon Taylor reports: "There's a huge advantage in operating from a converted chicken shed – low-cost warehousing means we can offer better value, and there's plenty of parking space. However we are hard to find. We sell our wines so successfully all over the country – to Michelin starred restaurants, Oxford Colleges and private customers from Cornwall to Aberdeen – but after 13 years here we are still being 'discovered' by wine drinkers who live a mile away. So we thought we would push the boat out, have a jolly open day and welcome more Hampshire wine lovers".    
< Previous
|
Next >
Displaying Blog Posts 1 to 10 of 61