Best 6 Red Wines for Summer BBQs
4th July 2022
It's BBQ season! Whilst our Best Reds for Summer BBQs are principally chosen to go with big, rich, red meat on the barbecue, each of our wines would be great with grilled veg as well as the ever-growing vegan BBQ options too.
Best are reds with guts and bold flavours, lots of fruit and no or not much oak barrel influence (as that toastiness can fight with the charred notes from the fire)...and we have the perfect selection for you for the summer.
We've selected our best 6 Reds for summer BBQs with picks from Chile, France, Australia and South Africa. There's even a Gold medal, 95/100 Piekenierskloof from the 2022 Decanter World Wine Awards at just £15.50 a bottle.
Here's our choice of the top 6 Best Reds for your Summer BBQs!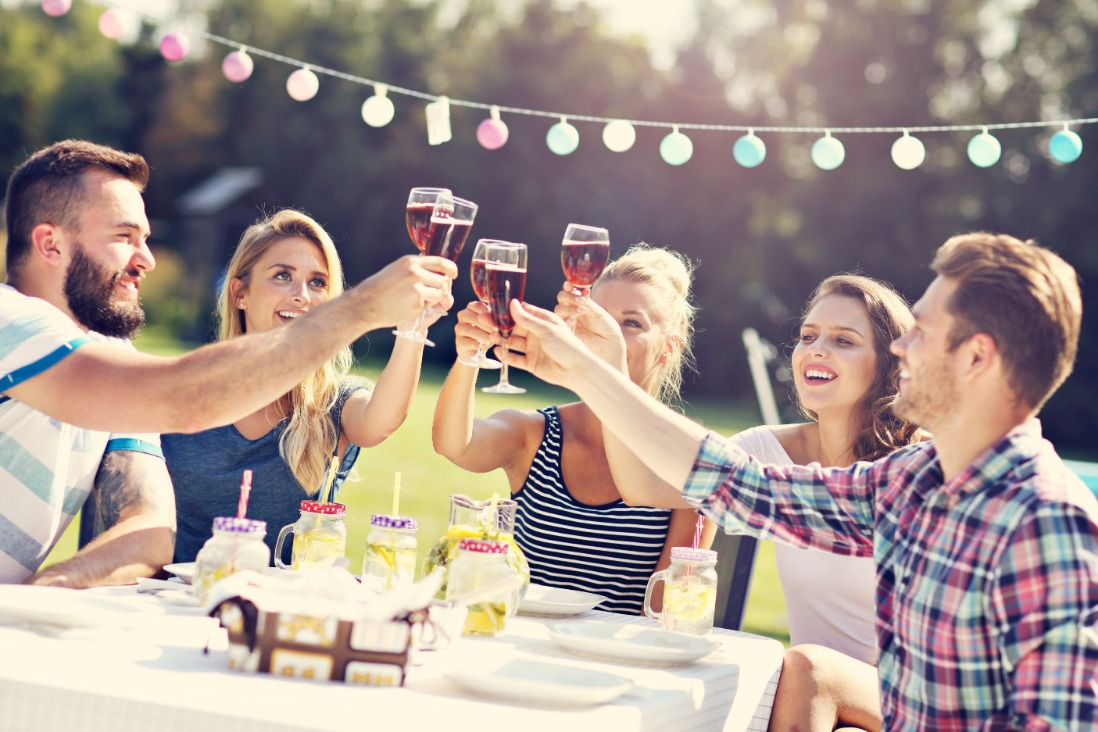 Friends, family, sun, BBQs and the perfect wine, what could be better?
Here's our hand-picked list of the Best 6 Reds for Summer BBQs 2022
---
A lot of Syrah / Shiraz has been planted in Chile over the last twenty years – and as the vines age it's getting better and better. About 1/3 of this wine goes into older French oak barrels, lending vanilla accents to the appealing cherry and berry flavours. Great with simple beefburgers. Now-2023
Due to popularity, this wine is now out of stock. Discover more incredible red wines here.
---
Deeply hued and concentrated blend of local grape Tannat with Cabernets Sauvignon and Franc; a great value, old fashioned, country wine in its honest combination of vibrant black fruit, bright acid and light tannin. Dry, savoury, terrific with any meat dish, very more-ish and deservedly a best seller. Now-2026
We're afraid this wine is now out of stock. Discover more incredible red wines here.
---
This is the latest vintage of one of our staples at SVS: about 50% Carignan, with 35% Grenache and 15% Mourvèdre, aged in two- to four-year-old barrels. It's a robust wine: vivid, inky purple; dark-fruited, with hints of Christmas spice and that characteristic Mourvèdre meatiness. With freshness and bite, it's as gutsy as a more expensive southern Rhône and as elegant and concentrated as a much more expensive Bordeaux. Now-2025
We have been buying from Grand Arc since 2002: here Nicolas Schenk is now running the family estate created by his father Bruno. The vines lie on classic argilo-calcaire soils, with some sandstone, around Cucugnan, in a valley of the Massif des Corbières in the south of the appellation, overlooked by the amazing hill-top Cathar castles of Quéribus and Peyrepertuse. The family have been following organic principles for 20 years but Nicolas was behind the final push to certification for the 2016 vintage. He has a keen interest in biodynamics and is also continuing his father's pursuit of minimal intervention, in particular using natural yeasts and only a tiny amount of sulphur at bottling.
Due to popularity, this wine is now out of stock. Discover more incredible red wines here.
---
60% Grenache, 20% Syrah and Cinsaut, all in tank, from vines farmed (and certified) bio-dynamically: explosively vital, from its enticing cherry perfume through a red cherry, raspberry and cranberry heart. Forward, juicy and altogether life enhancing. Again brilliant and with such reasonable pricing for the quality. Now-2027
---
A blend of 44% Cabernet Sauvignon, 40% Shiraz, 11% Malbec and 5% Merlot. A quintessential South Australian wine. Big, bold flavours of cherry and blackcurrant with a sprinkling of black pepper. There is an appealing toasty oak note too. Now-2023
We're afraid this wine is now out of stock. Discover more incredible red wines here.
---
Piekenierskloof has more Grenache planted than any other estate in the Cape, including parcels going back to 1973. All goes into old, effectively neutral, oak. Stimulating aromatics – strawberries and spice. Wonderful purity. Mouthcoating texture. Lovely winegum flavours with notes of clove and pepper. A real Rhône challenger. Now-2025
"Intense aromas of nutmeg, ginger, blackberry, freshly roasted coffee beans, and a hint of toasted oak sitting at the back. The palate is very well balanced, with well-controlled fruit, and flavours of black cherry, damsons, olive, and Mediterranean herbs, with a grip of oak on the finish. Gold medal, 95/100", 2022 Decanter World Wine Awards
We're afraid this wine is now out of stock. Discover more incredible red wines here.
---
Exclusive to Stone, Vine & Sun
We source our amazing wines from small independent winemakers and as such you're unlikely to find them anywhere else in the UK.
Due to their exclusivity, these beautiful red wines may sell out. If any of our top Best 6 Reds for Summer BBQs are out of stock, you can view our full range of Reds on the website or you can get in touch with us & we'd be delighted to suggest some incredible BBQ red alternatives.