"Working" In Australia III: Adelaide Hills; The Clare, Barossa and Eden Valleys; McLaren Vale
14th October 2017
The last leg on my Australian tour, and the pace has accelerated. In four days I went through:
A superb tasting of the wines at Ashton Hills, the tiny but historic vineyard planted by Stephen George in the 1980s – every one superb, from fizz to Riesling to one of Australia's top Pinot Noirs.
A mad (and drunken) tasting of mainly natural wines from Basket Ranges: as usual encompassing the spectrum from the very good to the bad and the ugly (if I wanted my wine to taste like beer I would buy beer – it's cheaper). See below for the Sunday afternoon carnage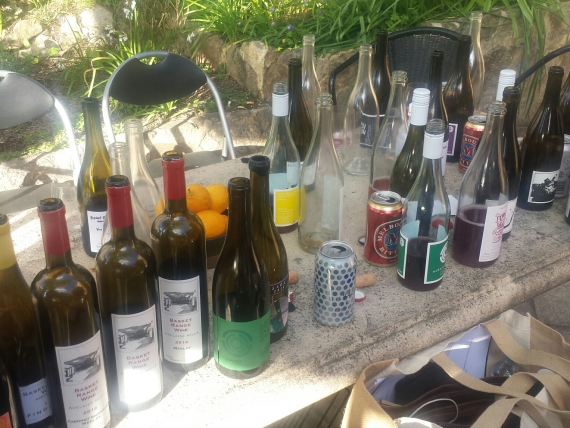 Short flights of top quality Clare Valley Riesling and stellar Barossa Shiraz. We were spoiled – personally I preferred the elegance and purity of Henschke's 2014 Mount Edelstone Shiraz to the more earthy (and much more expensive) 2012 Hill of Grace.
A fascinating tasting of Barossa wines from what Wine Australia called "next generation winemakers". (This seems to imply anyone younger than me! ). Some brilliant and not over-priced wines here from, among others, Dave Lehmann at David Franz, Ben Chapman at Tomfoolery Wines and Michael Hall Wines (unbelievable coincidence – Michael was one of my former colleagues at Sotheby's who dumped the glamour of the Geneva Jewellery auctions, retrained in wine in Australia and now makes some very fine Syrah / Shiraz and Chardonnay).
Flights of cool climate Adelaide Hills Chardonnay and Shiraz from Geoff Weaver, Tappanappa, The Lane and Shaw & Smith (the latter particularly impressive given they make decent quantities of their M3 Chardonnay and estate Shiraz).
Two wide-ranging tastings of "alternative" varieties from the Adelaide Hills and McLaren Vale; whites from Gruner, Fiano and Savagnin (for some time time planted as Albarino and largely grubbed up once the locals realised they had been sold a pup); and reds from Italian and Spanish red grapes, sometimes blended. (It seems to me Tempranillo is a waste of time in Australia - or will be for a long time until the vines age – as I tasted confected rosés and simple reds in every region).
Superb McLaren Vale Grenache (and Grenache blends) from Thistledown, Gemtree, Chapel Hill, Ministry of Clouds and others – wines which rival the best of the southern Rhône, and often from even older vines.
A valedictory dinner (and sunset over the ocean) at the Star of Greece restaurant, at which so many wines were poured that I can't remember any bar d'Arenberg's famed (and pretty impenetrable) Dead Arm Shiraz, brought by the extrovert Chester Osborn.