"Working" in Australia I: first impressions
5th October 2017
After a hard day criss-crossing the Yarra Valley (source of top-notch Chardonnay and Pinot Noir, and pretty good Cabernet and Shiraz too), it's good to return home for a decent drink. My hosts Michele and Tony Jordan, he one of the pioneers of Australian wine in the 1980s, raided their cellar for me and friends last night. We kicked off with two Coldstream Hills Chardonnays, 1988 and 1990 vintages, both interesting but a bit brown and tired, before tasting a phenomenon: an unoaked Chardonnay from 1978 made at the Riverina College where Tony was then teaching: bottled in a Riesling bottle and sealed under screwcap. This was amazingly fresh and lemony, with a light petrolly note.
Four Aussie Pinots followed, the highlight being Bass Phillips Premium 1994 from South Gippsland, south-east of Melbourne: black-fruited, fat, spicy; drinking perfectly but with years of life ahead; and just 13% alcohol. Any Côte de Nuits grower would be proud of it.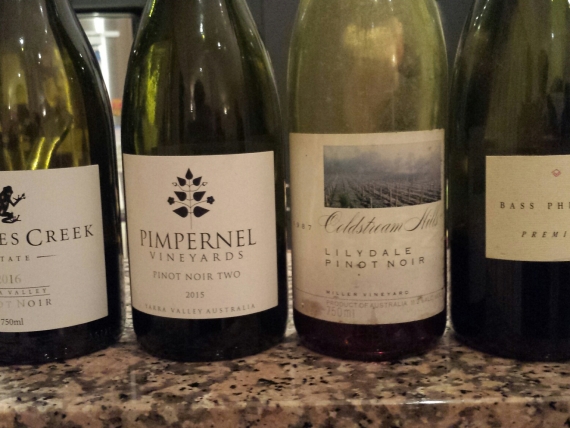 With cheese Tony produced a bottle of 1983 Grange. This had such svelte integration of black fruit and oak that l took it for a Cabernet or Bordeaux blend. Once shown the label, of course, the Syrah was obvious (haha), with savoury and peppery spice. We closed with a sticky, a Seppeltsfield "Tokay", from Muscadelle, intensely sweet and luscious but with a touch more aromatic lift than the ancient liqueur Muscat enjoyed the night before.
Who says new world wines don't age well!