Vriesenhof
Stellenbosch, South Africa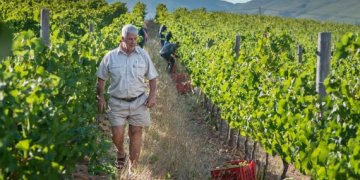 To visit Vriesenhof is to spend time with a Cape legend.
Founder, owner and cellar master is Jan 'Boland' Coetzee. Son of a west coast farmer, in the 1970s he was simultaneously both a Springbok under Doc Craven and winemaker at Kanonkop.
In 1980 he bought his own farm on the windy slopes of Paradyskloof on the southern edge of Stellenbosch. In the 1980s he was one of the first suitcase smugglers of Chardonnay cuttings (in his son's nappies or the lining of a jacket) from Burgundy into the Cape.
Though he was a mover and shaker, he also worked with enormous patience – he had loved Pinot Noir for over two decades but didn't release one until he felt ready in 1990. Earlier this year he completed his 54th vintage. Yet here he was in March 2020, humbly pouring wine for visitors.
These are traditional Cape reds, with dense fruit and proper structure. We were super-excited to find the Pinotage, as we have lacked a really good example for years – and this one delivers typicity and grunt at a very fair price.