Eduardo Chadwick: Decanter Man of the Year Award Dinner, The Lanesborough, 5th April 2018
14th April 2018
It's an interesting award, as it isn't given solely to people who make great wine; but rather distinguishes those who make a difference to how one thinks about wine. Eduardo, owner of Errazuriz and founder of Sena and Chadwick, has earned it for doing more than any other person to put Chile on the international fine wine map: he is THE MAN for Chile. His bravest moment came in 2004 when, in emulation of Stephen Spurrier's 1976 Judgement of Paris (which pitted California Chardonnay and Cabernet against white Burgundy and left bank Bordeaux) he held a blind tasting in Berlin matching his top Chilean reds against First Growths and top Bordeaux blends from Italy. It could have been a case of overweening hubris but Eduardo was vindicated: his Chileans took three of the top four spots. About 25 similar tastings have been held since, all over the world. There were those who sneered: vulgar New World wines were simply more showy in youth than the long-lived but less approachable clarets – but in more recent events Eduardo has been showing that his wines last beautifully too.
Dinner was stodgy (not the company or indeed the speeches, but the food: langoustine ravioli that one needed a hacksaw to cut; and an orange croquette of Reblochon that was akin to a blob from Aldi) but the six wines from the Chadwick's stable shone. First up were the two top wines from the new plantings at Manzanar near the Pacific, the 2015 Pizarras Chardonnay, still quite oaky but also silky and super-refined; and the 2016 Pizarras Pinot Noir, showing intense red fruit: both with years to go before their prime. Next Kai 2005, Errazuriz's top Carmenere, delivering forceful varietal personality with flavours of roast coffee bean and seaweed; and Don Maximiano Founder's Reserve 2014, perhaps the only dull wine on the night, as this Cabernet was rather monolithic. The climax was Sena 1996 poured with Vinedo Chadwick 2000. The latter still showed plenty of mocha oak, but also a gamut of secondary nuances: grilled meat and vegetables; earthy and powerful.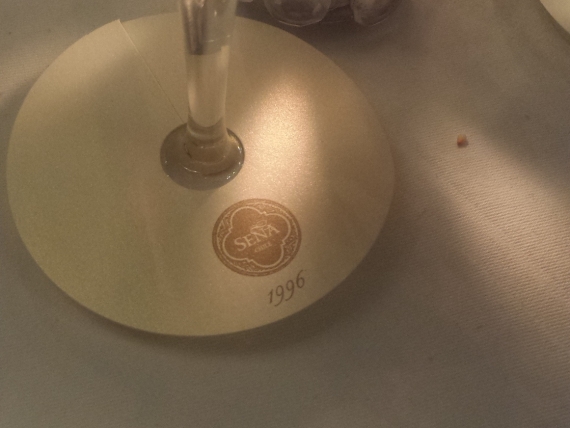 1996 Sena, the Bordeaux blend collaboration with the Mondavi family (but now wholly owned by the Chadwicks), on the other hand, was blissfully pure and youthful. Showing svelte blackcurrants just tinged by Chilean eucalyptus this was so graceful and harmonious, and good for at least another decade. The class is all the more remarkable as it was only the second vintage of Sena. Eduardo (more than aided by master winemaker Francisco Baettig) fully deserve his award.
Come to our Chardomanic / Pinotpath day in London on May12th and you can taste the two top Pizarras wines, plus two other Errazuriz Chardonnays and the Aconcagua Costa Pinot Noir 2016: I would argue this is one of the best £15 Pinots in the world. Come and see what you think!