Champagne & Sparkling Wine World Championships Awards Dinner, 24th October
15th November 2018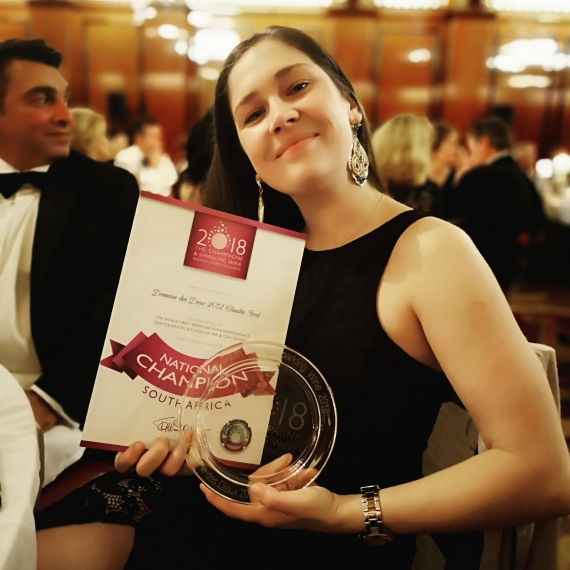 On with the black tie, off to Merchant Taylors Hall for two purposes: first to accompany Megan Parnell (pictured) of Domaine des Dieux in Hemel-en-Aarde; and second, to ensure I tasted as many rare and expensive bottles (most of which were being poured from magnums) as possible.
Megan did the business, picking up the trophy for best South African Sparkling Wine just pipping our friend David Niewoudt of Cederberg (who really only makes his fizz so that family and friends can drink it – but it is delicious). The Parnell family's 2012 Claudia MCC (i.e. made in the same way as Champagne, with a secondary fermentation in bottle) is superb, rich and bready, so much more enjoyable to drink than a lot of Champagne (and not just cheap Champagne either) - but sadly it's not that easy to sell here, stuck as it is in the unvisited foothills between the elitist peaks of Champagne and the fashionable sea of Prosecco. But as Claudia has just also won the Amorim Trophy for the best MCC in the Cape (in a field of 127 entries) we can confidently state that here at SVS we sell the top South African fizz for a mere £17.95.
As for the Champagnes, these weren't shabby either. I couldn't (without using sharp elbows) taste everything but these were my favourites (and preferred to Cristal 2008).
Lanson Gold Label, 2008: Very yeasty / autolytic style, very dry and very long. Rather magnificent.
Maison Mumm RSRV 4.5 NV: a new one on me. Again, impressively dry, almost austere and classic
Piper-Heidsieck 2008: Refined perfume (smells Chardonnay based, 52% apparently); very ripe attack and then attractively doughy.
Veuve Clicquot 2008: wow, mouthfilling, so much energy.
And top (not just because I was sitting next to Hervé Deschamps of Maison Perrier-Jouet, ensuring it was on tap) was Perrier-Jouet, Belle Epoque, Blanc de Blancs 2008: absolutely my kinda Champagne, tasting like the finest sparkling white Burgundy (Corton-Charlemagne?), with such finesse and purity. Memorable.