THE TRAVELLING MERCHANT - Notes from Argentina and Chile
31st March 2010
I have just returned from a fortnight prospecting in Chile and Argentina - on a schedule which would have tested a man half my age and exhausted me! It was stimulating though, and if one digs around enough it is amazing what great values one can find, especially in Argentina. Highlights were..
Reaching Carlos Arizu at Vicien in the Fiambala Valley in north-west Argentina. This involves flying to La Rioja and then a three hour drive into the near-desert of the altiplano, before one reaches Carlos's vineyards, over 5,000 feet up, glowing green in an inhospitable, lunar landscape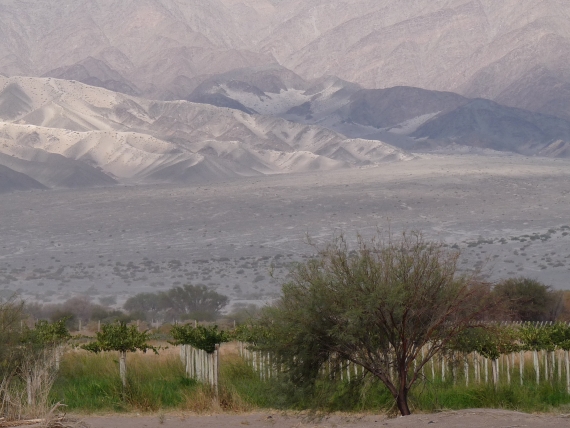 ..but it was worth it: for Carlos's gentle hospitality; for the delicious wines, all jellied fruit and vivid hues (from the extra skin pigment generated by altitude and clear skies); for seeing the new harvest being brought in; for the simple pleasure of lounging in the rock-pools of the local thermal baths; for the satisfaction of paying less than £9.00 a night in the municipal hotel; and for the unusual sight of vultures in the vineyard!
Second: lunch with Walter Bressia (and his daughter Mary), perhaps the top winemaker in Argentina, in Azafran, the best restaurant in Mendoza; enjoying Walter's new Pinot Noir with very rare tuna (see left), followed by Conjuro, a huge but elegant Malbec blend (not sure if we can afford either of these amazing wines!) with mountain lamb (on right).


Third: tasting at Tabali, northern Chile, in the surreal, but amazing, subterranean hall - somewhat reminiscent of a James Bond film set.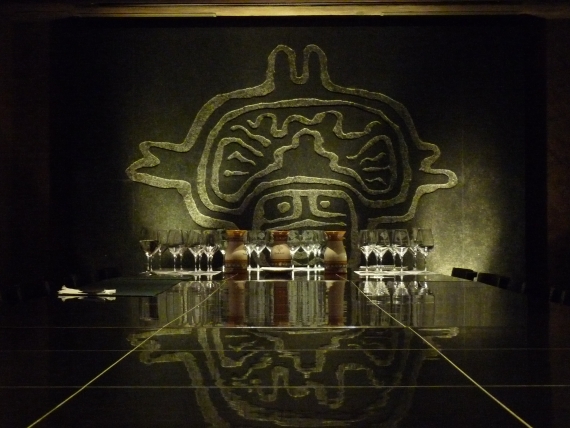 The wines here are superb: young Felipe Muller is the current Chilean winemaker of the year: that he won this award is amazing given that the most expensive Tabali wines are currently only £11.50 or so here. Almost everything he touches is superb, but especially Pinot Noir and Chardonnay.
Fourth: a tour of the new hillside vineyards at Luis Felipe Edwards. Nicolas Bizzari took me in his 4WD nearly 2,000 feet up from the valley floor in Colchagua to see the 100 hectares of vines his father-in-law's family have planted over rolling hills. These, which must represent one of the most ambitious vineyard projects anywhere in the world, are some of the most beautiful vineyards you will ever see - see the snowy peaks of the Andes in the background.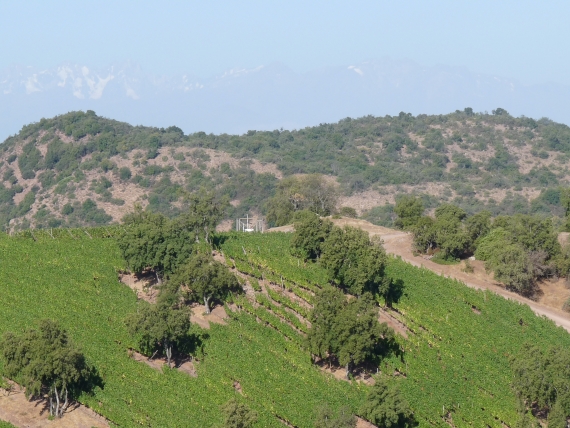 It's still early to see the expected uplift in wine quality here from the fruit of these vineyards - but we are shipping some splendid wines from Luis Felipe Edwards and look forward to watching developments here.
Fifth, and on my last day in Chile, a very informal lunch with one of the country's top winemakers, Alvaro Espinoza.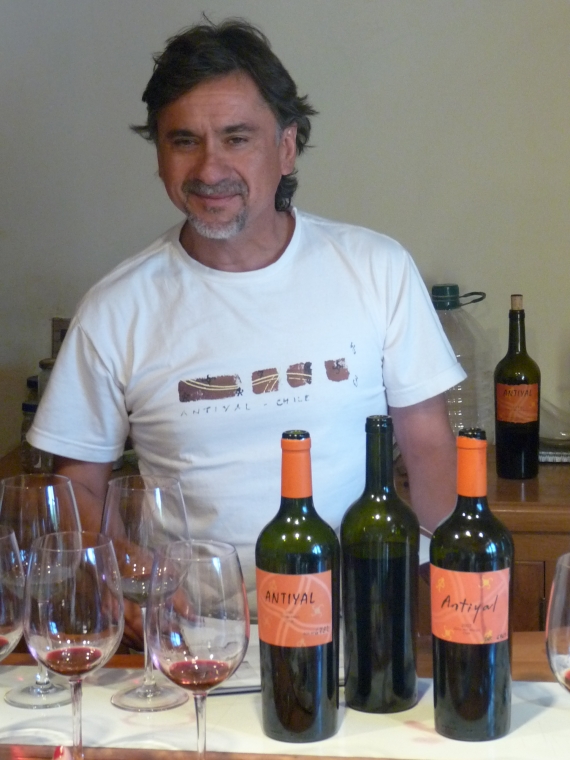 Alvaro is now Chile's leading wine consultant, with a particular focus on organic wine. We were tasting the two wines he makes from family-owned vineyards in Maipo, the superb Carmenere/Cab./Syrah blend Antiyal; and Kuyen, based on Syrah. Both are fantastic. Whilst the 1998 Antiyal was lovely, with cooked mulberry fruit spiced by savoury and coffee notes, one of the stand-outs of my whole trip was the 2007 vintage of Antiyal - so we have snaffled the last remaining stock! Arriving late summer - a delicious, hugely impressive and elegant wine.