Marine Roussel, Domaine du Joncier, Lirac, France
Years ago, when Oz Clarke mentioned to us that he was looking for entertaining French winemakers to visit for the first series of Oz and James's Big Wine Adventure, we sent him off to see Marine Roussel at Domaine du Joncier in the southern Rhône, just the other side of the river from Châteauneuf-du-Pape.
Of course she starred; she is a charismatic character, and her wines have been giving our customers pleasure ever since we began working with her in the 2001 vintage.
Domaine du Joncier, Tavel: Marine Roussel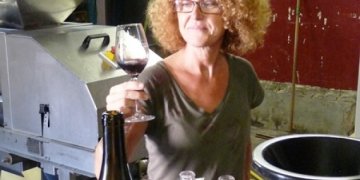 Marine first adopted organic viticulture many years ago, then bio-dynamics, and from the 2011 vintage all her wines have been certified as both. She is absolutely confident of the benefits: she feels her vines are healthier and stronger, more resistant to disease and drought. As proof she brought in a generous crop in perfect condition in 2011, and reduced yields but excellent quality in 2012. She also thinks bio-dynamism brings more grace and elegance to her wines.
Marine now makes four reds, all with different blends, and all worthy of our selection: l'O, a pure Grenache Côtes de Rhône, which comes from vines within the Lirac appellation; Le Gourmand, from about 65% Grenache with Syrah, Cinsaut and Carignan, supple and red-fruited, for early drinking; Le Classique, her principal wine; and Les Muses, which she only releases in selected vintages, from 80% Mourvèdre with Syrah and a little Grenache, this is a distinctive wine which has more in common with a Bandol than a typical Southern Rhône.
It's worth pointing out that the land in Lirac is by no means homogenous. Marine's vineyards are on the best terroir, marked by the same "galets roulés" as those of Châteauneuf just across the Rhône.