Riesling
Jancis Robinson, MW: "the world's greatest white grape" ?
Origins
Unquestionably German: documented in the 15th C
Characteristics
Very hardy; can resist -20°C
High acidity, even when sugar levels are high…but low in alcohol
Reflects its terroir
Highly aromatic: flowers, honey and spice
High yielding, even up to 100 hectolitres per hectare (due to breeding improvements since late 19thC)
Ripens late in Germany, but resistant to botrytis
Great ageing ability, certainly 10, up to100+ years. As Riesling ages a scent of petrol becomes apparent;and it can appear less sweet
Beware similar names of unrelated grapes, e.g. Eastern Europe's Welschriesling, or South Africa's Cape Riesling
Vinification/ Maturation
Very simple, stainless steel tank or very large old wooden vats. No new oak anywhere
Homeland
Germany
In particular along the river systems: Mosel-Saar-Ruwer, Rheingau and Nahe
Planted on precipitous slopes, usually south or south-west facing, up to 200m above river level. Slate soils help ripening
Also Pfalz, Franken, Wurttemburg etc.
Order of ripeness (and therefore usually, but not always, sweetness): Qba (Quality wine from specific region); Kabinett; Spatlese; Auslese; Beerenauslese (BA); Trockenbeerenauslese (TBA)
Also: Eiswein (literally ice wine), made from picking frozen grapes in December
Also to be found in
Alsace: wines tend to be fuller bodied, with higher alcohol, and dry or off-dry
N.E. Italy
Austria: v. small production, dry wines on Alsace lines, often high in alcohol
California and Oregon: tend to be dry but can be aromatic and successful
Australia: Brought to Oz. by Silesian settlers in Barossa Valley, South Australia. Grown in cooler zones, e.g. Clare and Eden Valleys, Adelaide Hills, can be dry, limey and excellent
New Zealand: usually South Island. Often scented and pretty
Chile. Early days
South Africa: Known as Weisser Riesling. A sideshow
Our Riesling Wines…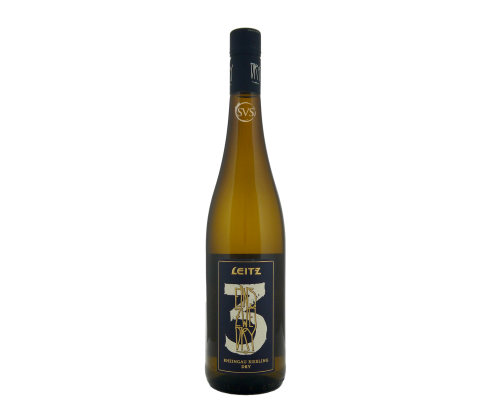 Buy 12
Save £17.94
Dry Riesling from superstar Johannes Leitz's south-facing vineyards above the Rhine....
OriginGermany
RegionRheingau
ColourWhite
ABV12%
Bottle75cl
CodeLEI418
GrapeReisling
Discover More