Gordon's Send-Off From SVS
17th June 2015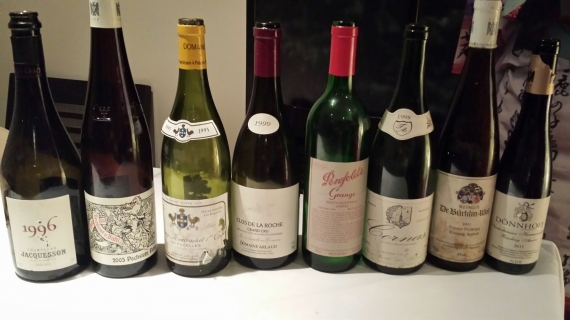 A sad event last Thursday - Gordon Coates's leaving party after seven years at SVS - was at least enlivened by some splendid wines, with somewhat of a focus on Riesling, one of Gordon's favourite grapes. The venue was Kyoto Kitchen, in the centre of Winchester, where brilliant, very fairly priced Japanese food is served by Dan and his crew.
We kicked off with a bottle of Jacquesson 1996, this wonderful micro house's vintage Champagne; bready, savoury and bone dry. First arrivals (of a lot of dishes) were a selection of tempura plates, and a remarkable pairing ensued: soft shell crab tempura with Domaine Leflaive, 1995 Puligny 1er Cru Les Pucelles (in perfect condition - wahay!). The wine was golden, rich, honeyed and buttery, but with enough acidity to cut the tempura perfectly. Then it was Sushi and Sashimi time, accompanied by Von Buhl's 2005 Pechstein Forster Riesling Spatlese Trocken from the Pfalz, young, grapefruity and vital. Next up duck, with Arlaud's Clos de la Roche 1999, so open, expressive and still showing strong primary fruit. Rare grilled beef followed, with a Syrah / Shiraz horizontal: 1998 Grange - ridiculously young and blackcurranty - against 1998 Thierry Allemand's Cornas Chaillot, also youthful but more earthy, and standing up well next to Australia's most famous wine.
We closed with more Riesling: by pure chance a wine from the same vineyard as Von Buhl's above, the 1994 Forster Pechstein Riesling Auslese from Dr Burklin-Wolf - barleysugar sweet and petrolly - and Donnhoff's 2011 Niederhauser Hermannshohle, Riesling Auslese Goldcap - a mere 8.5% of alcohol (no bad thing at the end of this evening!) and refreshingly limey and zingy.
Gordon, can you come back so we can do this more often?