Fenavin: Biting the Hand that Fed Me
1st June 2019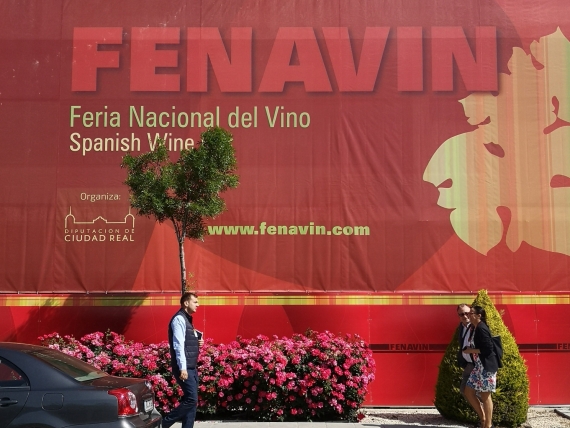 I got back from Fenavin, the Spanish wine fair which takes place in Ciudad Real, on the 8th May. As a fair, it works: fly to Madrid, taxi to station, an hour on an impressively comfortable, reasonably priced and extremely fast train (puts ours to shame) and you are there, albeit in a slightly soulless town. The fair isn't too large, the buildings are air-conditioned and it's not too crowded. I was also a guest of their International Buyers programme, so enjoyed free travel and hospitality. So I entered with an optimistic air, hopeful of uncovering both value and quality. Here are the the positives I encountered:
Galicia. This north-west, Atlantic facing region has a climate not much warmer than Cornwall. It's the source of lovely aromatic whites, the best known being Albarino; but also fine white blends from Ribeiro – and delicate Mencia too.
Gredos. Super Garnacha / Grenache, pure and fine
Valencia. All sorts of interesting local grapes here and fascinating blends as a result.
And, above all, value.. Spain has dramatically good wines for us to sell at under £10 a bottle – whites from Macabeo and Garnacha Blanca; and reds from Tempranillo, Garnacha, Syrah, Carignan and, above all, Monastrell (Mourvèdre) from Jumilla and Yecla.
BUT….I don't think Spanish wine is in a good state at all. I was last at Fenavin in 2013, and, disappointingly, little in the wine scene seems to have changed for the better - if anything for the worse, certainly for British palates – and eyes. Here goes - first visually (has no-one told them it's the liquid in the bottle that matters? That it's not about marketing but growing quality grapes and crafting wine?):
Presentation. So many horrors: thuggishly heavy glass, bottles in ugly (they presumably think distinctive) shapes, both squat and elongated; adorned with shouty labels with little sense of sound design.
Naming. Why do so many Spanish wines come with English names? And why so crass? "Crazy Grapes", "Time Waits for No-one" and even the (surely untrue) "Fucking Good Wine"? This is a denial of Hispanic culture: it implies a sense of inferiority, an inability to confidently promote the grapes and/or the origin of their wines; and it can only be a desperate attempt to attract attention, presumably from millennials. (Most here have more sense, but perhaps it works in Chengdu).
As for what's in the bottle, sadly all too often marred by:
Oak. Yes, oak barrels, new and old, in Spanish bodegas usually made from American but also French oak. Oak, the stuff that leaves one after a day's tasting with a furry palate flavoured with sweetish, vanilla-tinged gunk. Does anyone under the age of sixty like this old-fashioned, cigarette butt-y nuance any more (if they ever did)? And it's not just the reds….try the oaked Chardonnays and Viogniers (or rather don't).
Alcohol. The elephant on the label. The AVERAGE alcohol level of the reds I tasted must have been 14.5%. Certainly there were several over 15% and most of the labels probably understate by the legal .5%. This is bullying. I want to pour more wine down my throat, not fall over.
A couple of British merchants in our group were huge fans of Spanish reds: applauding the "fruit concentration" and "oak integration". But alongside this laudable density, often based on juice from old vines, goes, all too often, a lack of freshness, a dreary heaviness and occasionally a savagery (try most Toro!). The Spanish still seem to be able to sell these lumpen reds into northern Europe, but our customers don't ask for them. Victims as they are of climate change, suffering from increasing temperatures and minimal rain, could Spanish winemakers do better?