Domaine des Dieux
31st March 2021
Hemel-en-Aarde, South Africa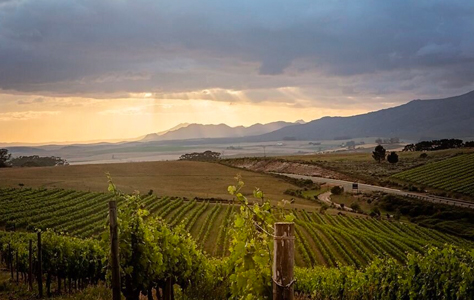 The Hemel-en-Aarde Valley, which translates as Heaven on Earth, rises prettily from just west of Hermanus.
When we first visited in 2003 the wineries, notably Hamilton Russell and Bouchard Finlayson, were all in the lower part of the valley, but more recently plantings at the top of the valley - higher, drier, with warmer days but cooler nights - have increased. Enjoying naturally low pH soils, and moderate temperatures, cooled by winds from the ocean, this really is a sweet spot in the Cape.
Domaine des Dieux is a small estate just above Ataraxia at the very top of the valley in the Hemel-en-Aarde Ridge zone.
The farm, with vineyards on the slopes of Babylon's Toren mountain, was bought in 2002, with an initial focus on making the first sparkling wines in Hemel-en-Aarde (and boy have they succeeded) but still Chardonnay (scroll down to view their wines) and Pinot Noir followed.
Des Dieux have an interesting model: they have 20 hectares of unirrigated vines but no cellar (and no electricity on site either!). Winemaking of each of the wines is overseen by a specialist winemaker in local cellars - for example Kevin Grant of Ataraxia the Chardonnay and Niels Verburg of Luddite the Syrah / Mouvedre blend.
Their Chardonnay is stunning, a full-flavoured, perfectly-ready-to-drink, barrel-fermented Chardonnay of concentration and length.
We now rightly sell a lot of this - to private customers, Oxford Colleges and top London restaurants. But their Pinot Noir is also getting better and better and Claudia, their MCC sparkling wine, is also superb - in September 2018 the 2012 vintage won Best Brut and Overall Winner (i.e. the prize for the best Methode Champenoise wine in South Africa) at the 2018 Amorim MCC Challenge.