Basque Hospitality in Rioja Alavesa
22nd October 2010
I have just returned from three days in Rioja Alavesa (the northernmost zone, part of the Basque region, right up against the Sierra de Cantabria). The landscape looked beautiful - bone dry, with the vineyards beginning to turn orange and red, even though the harvest had not yet finished.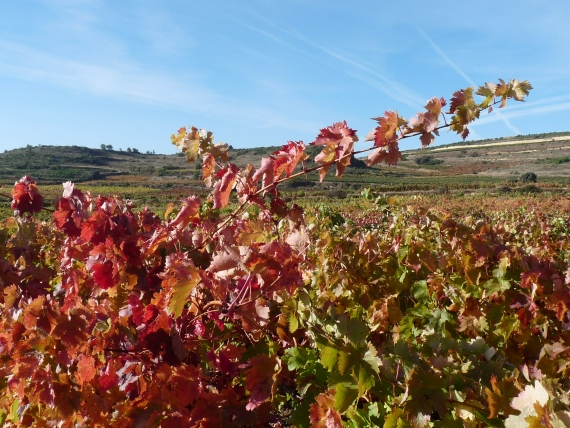 I tasted at a number of Bodegas, from the small and rustic to big co-operatives. The locals believe this to be the smartest and finest sub-zone of Rioja, but after this trip I have some reservations. So here goes:
1. There's a lot of very dull wine here, at every level, from really simple and lifeless wines at the base to heavy, over-extracted wines further up the scale.
2. Who the hell is paying for the architectural ego-trip wineries? Some of these bodegas are like modern-day cathedrals, monuments to the new religion of wine. At Baigorri one can see that the whole winery has been built to work on a gravity fed principal, which is all very worthy, but others are arrogant and brutalist. They may attract lots of tourists, and get written up in glossy magazines, but WHO PAYS? At the end of the day even the softest of loans from the Spanish government will have to be repaid, and I can't help but feel that first the wine merchant and ultimately the consumer is being asked to finance these. I feel very uneasy considering buying from these palaces - give me a peasant with his kit tucked into his farm out-buildings any day.
3. What does one expect from a bottle of Rioja? I vaguely thought I knew, but after this trip I am confused. I used to think it was a friendly, supple bottle full of ripe strawberry fruit with (usually) a pleasant vanilla note from ageing in American oak barrels. However, now I am puzzled: is it a bottle of confected juice (one wine tasted exactly like pink Haribo sweets), made with carbonic maceration (very much a local speciality in Rioja Alavesa)? Or is it a blackish, chocolatey wine made wholly in the international style, using 100% new French oak barrels, and lacking any discernible local character at all?
4. Is a Rioja from 100% Tempranillo really that exciting? It was noticeable that many of the better wines included some Graciano or Mazuelo - but you usually can't tell from the label....
5. There was a low point. A winemaker (I think he was called Jesus) poured us wine from a bottle weighing a kilo and a half (i.e. the empty bottle alone was the weight of a normal full bottle), adorned by a dreadful metal plaque instead of a label. He then proceeded to sprinkle edible gold flakes in every glass... He told us that the Chinese had wanted to buy every bottle, but he was only letting them have 25% of his production. This is very disappointing: if only the Chinese could be encouraged to waste their money on this sort of inky abomination there would be less of them chasing real wine.
It wasn't all bad. Whilst this region can perhaps coast on its reputatation internationally, which doesn't help the pursuit of quality, I tasted a lot of good wines. Here are the positives:
A. 2005 was clearly a great vintage in Rioja - so look out for anything from that year
B. Most wineries continue to make a decent Crianza - the 2007s usually seemed fine
C. Some really interesting wines are being made outside the Tinto/Crianza/Reserva/Gran Reserva codification. These are released as Riojas, as they include the right grapes, but even though they may be expensive they won't have Reserva or Gran Reserva on the labels. The locals sometimes call these "Vinos de Autor", personal expressions of Rioja.
Finally, I have to pay tribute to our Basque hosts, who clearly felt that English folk, labouring under austerity measures at home, needed fattening up. One day we had a five course lunch followed by a six course dinner. Here is that light lunch, eaten in the stone cellars of the excellent restaurant La Cueva in El Ciego (sadly I didn't take the camera out in the evening!).
First, (left to right), rounds of toast with tomatoes, jamon iberico and cheese; second, a mound of cod and potato; third, a fine piece of hake on Swiss chard; fourth, steak with mushroom sauce;




and finally, a messy pile of cheesecake like substance, mildly gluey (so I spare you the photo): this last was too much for me!