Badenhorst Family Wines
Swartland, South Africa
We met Adi Badenhorst when he was making great wines at Rustenberg, and we have been shipping bottles from the family-owned vineyards at Kalmoesfontein farm on the Paardeberg for so many years that we still remember the days of bats nesting in the bedrooms and the resident Cape Cobra that lived behind one of the fermentation tanks!
The farm is now a wonderful juxtaposition of old and new, with a patchwork of knotted old vines rubbing shoulders with young plantings, the conversion of old stables into holiday cottages and even a rustic chic wedding venue that's graced the covers of Forbes magazine.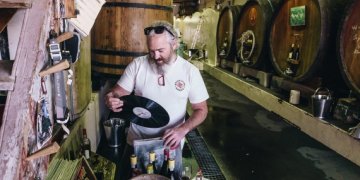 One thing that hasn't changed is the cellar, where the most modern piece of equipment is the coffee machine. Winemaking is traditional and with minimal intervention; using concrete fermentation tanks and old oak, often big old barrels which give no wood tannins at all, with the emphasis on highlighting the fantastic fruit and terroir of the farm. Adi's grizzled appearance rules him out as 'young gun' of the South African wine scene, but his energy and talent is still boundless, and the wines consistently dazzling. We give you Adi Badenhorst, the man who says his winemaking technique is "Ach, man, we dump it all in here and it just makes itself"!