1989-90 Sweet Loire with Jancis Robinson, MW
2nd November 2015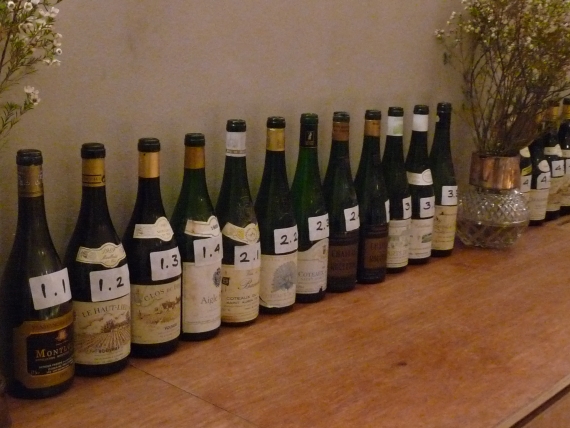 It's not often one gets to taste 29 25 year old wines in the company of the world's top wine writer: it's even rarer if these wines originally cost between £8.50 and £23.99 a bottle! But at 10.30 on Saturday morning I sat down to taste six flights of sweet Loire wines from the two vintages of 1989 and 1990, widely acclaimed in the region to be the finest since 1947. Here are some conclusions.
First, by modern standards many of these wines were not that sweet: Moelleux wines in the Loire then tended to 30-45 grams of residual sugar per litre, and whilst many wines in these two super hot years obviously showed a lot more than that, many of the wines would now be classified as demi-sec - although none the worse for that (Deletang's 1990 Mountlouis Les Batisses, Moelleux was brilliant in this vein, silky, spicy and long). Chenin's best quality is to keep acidity even in picked very late. As a result no-one present was overwhelmed by sugar and some wines were delighfully refreshing for bottles a quarter of a century old.
Second, there was no question that the three flights of 1990s were both more consistent and more interesting than the 1989s. Two reasons? In 1990 there was more botrytis and that gave more marmaladey richness and complexity to many of the year's best wines; and perhaps the growers' winemaking was more assured with one hot vintage already under their belts (some had also invested in refrigeration as well). Charles Sydney, the English courtier resident in the Loire, had told me that 1989 was the last of the old vintages, when the quality of the wines was determined only by the weather, as opposed to 1990 as the first of the new, where improved viticulture and winemaking became more significant, and this tasting bore that out.
Third, honours were pretty evenly split between Vouvray to the east of Tours and the Coteaux du Layon south west of Angers: wines from the the former were perhaps more subtle, and had less disappointments, but Quarts de Chaume also came up trumps: the 1989 Domaine de Baumard Quarts de Chaume (quince and honey, rich and powerful); the 1990s from Pierre-Bise (Claude Papin's first vintage of QdC, toffee and oranges, unfolding superbly); and Chateau de Fesles (bittersweeet, textured and energetic, with mineral and sandalwood hints). Matching them for complexity, quality and longevity - some of these wines have at least another ten years in them - if not sweetness, were Huet's 1989 Le Haut Lieu Moelleux 1er Trie (all ripe pears, lime, honey and beeswax); Domaine des Aubuisieres Vouvray Selection Grain Nobles of 1990 (really ripe and honeyed, candied oranges cut by fine acid) and Champalou's 1990 Vouvray Cuvee Catherine (concentrated, caramelly yet with a floral accent).
On the down side, we had one bottle badly corked, one bottle a little musty and several oxydised, including two of the four Huet wines on tasting - which was disappointing but not surprising in my experience. This tasting is probably totally impossible to replicate, short of begging for a lot of bottles in the Loire (our current growers, Domaine des Forges and Pierre-Bise very kindly sent samples), as this collection, including many tiny production special cuvees, was assembled in the 1990s. This extraordinary morning concluded with a really wonderful lunch at The Portland (just one highlight alone worth a detour - intensely fungal white truffle macaroons), the recently starred restaurant run by Jancis Robinson's son, Will Lander. So hats off to the Robinson / Lander clan for a pretty amazing event!