Zanut
Brda, Slovenia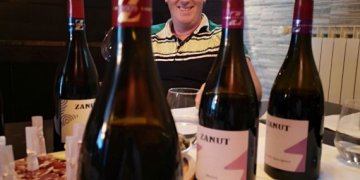 In November 2017, in true treasure-hunting SVS spirit, Simon went to Ljubljana for the 20th Slovenian wine festival, a chance to taste wine from all over this small country (about the size of Wales, with a population of two million).
It was a revelation: whilst some of the red wines are problematic, the standard of the whites (which make up over 2/3 of Slovenian production), was breathtaking. Even within a tasting where there were so many stimulating whites - intense, dry and age-worthy - one man's whites stood out: those of Borut Kocijančič at Zanut.
The seven hectares of the family-owned Zanut vineyards, mostly terraced and all grassed, lie across the rolling hills of Brda near the village of Neblo in the far west of Slovenia; only a few kilometres from the Italian border, and just north of the Italian city of Gorizia (Goriska). Soils, rich in minerals, are composed of clay, slate and sandstone. As one would expect, given the location, the grape varieties grown are very similar to those grown across the border in Friuli.
As the prices imply, these are no ordinary wines. The products of one of the top growers in Goriska Brda, the country's highest-rated wine district, fully deserve to be enjoyed by British wine drinkers. As tastings of older vintages confirmed, they keep well too.