Blog
Tuesday 19th March 2013 16:04pm
Email Offer -Two South American Beauties
If you have reached our website by following the link from today's email offer we are sorry but both wines are now sold out.
Saturday 6th October 2012 15:41pm
Starry Dining and Wining
Hot news this week: the Red Lion in East Chisenbury near Upavon, Wiltshire, has been awarded a Michelin Star.  This is so well deserved: here's the back story. Local boy Guy Manning trains with Bruce Poole at Chez Bruce in London and then heads to New York to extend his horizons. Working in the kitchen of the famous Per Se  (triple-starred) he meets New Jersey-born Brittany. Together they also do a stage with another triple starred chef, Martin Berastegui, in San Sebastian. Armed with incredible experience they then come back to England to start their own place, and Wiltshire folk are just so lucky they alighted upon the little pub of the Red Lion in 2008.  Since day one the cooking has been sensational here (they won Pub Chef of the year in the Good Food guide after only a year) and I have bored the pants off western Hampshire foodies extolling the virtues of Guy's skill  with fresh fish (you can never have enough butter!) and his epic Wilshire rib-eye steaks for two (one of the very few fixtures on the ever-changing menu).  I fear sometimes that Brittany (who has just made the mistake of telling me she has a degree in Pastry Arts!) feels her mission is to get diners addicted to Valrhona chocolate, but do make sure you leave room for one of her amazing confections.
Every thing here is amazing: they don't just use local suppliers, and change their menus with the seasons, but they are now increasingly going into production themselves, with a neat vegetable garden and home-cured meats.  If you go to one of their special gourment dinners the food gets even more exciting – again, for some time I have been saying that on those nights the food is definitely approaching two stars!   
The only problem about the Red Lion is that it's a bit isolated (north of Salisbury, east of Devizes and south of Marlborough), but now there is a solution in sight. Guy and Britanny have created a really comfortable B & B, Troutbeck, just down the road from the pub. With  just 5 smart rooms, all with en suite bathrooms, great bedding, B & O technology and wifi, this is a perfect place to totter back to after dinner.  Stay there, eat at the Red Lion, and walk on Salisbury Plain: a perfect break.
Contacts: 01980 671124   www.redlionfreehouse.com
P.S. Here's where I declare an interest.  We have supplied the Red Lion ever since 2008, with a brief but really interesting list which is reviewed and overhauled regularly.  But that isn't why I have eaten there regularly ever since they opened – it's simply because here is the best food, bar none, within 35 mintures of home near Stockbridge!
Tuesday 29th May 2012 19:46pm
Annual Faiveley lunch at The Square, 29th May 2012
One of the benefits of shipping wines from the superb Domaine Faiveley in Burgundy is that one gets invited to an annual lunch at The Square just off Bond Street. 
I find long eulogistic food and wine blogs either absurd or irritating - absurd if too rhapsodic, or irritating if well written as one can't share the experience but jealousy is aroused. So, to make it short, four delectable white Burgundies were poured, matched with crab, lobster and cheese.  Two standouts were (as last year, when the 2009 vintage shone) the 2010 Mercurey Blanc Clos Rochette, all creamy oak and tangerine (I am so glad we are about to ship lots of this well-priced charmer); and - no surprises here - the 2009 Bienvenues Batard Montrachet, which opened dramatically over lunch. Initially delivering orange peel and floral character on the nose, highly energetic, with a ridiculously long, mildly honeyed finish, by the end of the meal it was showing the true exoticism of wines from this site, with nuances of pineapple and mango. Erwan Faiveley, our host, drily commented that as they only made 3000 bottles of this we were working our way through a decent proportion of it.
The reds accompanied peasanty, earthy and fungal food: snails with morels; pigeon; and aged Montgomery cheddar and Reblochon. 2008 Nuits-St-Georges, 1er Cru Les Saints-Georges (from a vineyard the owners of which are pushing the INAO to upgrade to Grand Cru status) was still showing primary red cherries and great purity - along with acidity which now looks on the crisp side, but may soften over a decade. Last was the 1999 Mazis Chambertin: mid tone; textbook farmyardy aromas along with a nicotine hint; a still youthful and fleshy palate of black cherries, very savoury, and with liquorice on the finish. Interestingly, the pungent, salty cheddar, which I feared would strip the wine, actually made it appear fruitier and more vital. 
This was a tough day, but someone (actually Gordon and I) had to do it....
Friday 13th April 2012 14:09pm
If you are within striking distance of Stockbridge our tasting next week should not be missed:
The Beautiful South: Languedoc-Roussillon
Wednesday 18th April, 6.00-8.30 pm
Venue: Stockbridge Town Hall, High Street, Stockbridge, SO20 6HE
We have earned a national reputation for our selection of wines from
the south of France, and it is clear from the volumes we sell that you
share our enthusiasm for the value and quality to be found here. In the
newly refurbished Stockbridge Town Hall we offer a walk-round tasting of
some 30 wines, from varietal wines to superb, ageworthy wines from the
top appellations - Coteaux du Languedoc, Faugères, St Chinian, and
Roussillon. On the tables will be herb-scented whites, fruity rosés and
terroir-driven reds, plus, to close, delectable Vin Doux Naturel.
10% off all bottle prices of wines in the tasting for all orders placed on the evening.
Please just call us if you would like to come, and by all means bring interested friends.
Click here for details of more events.
Thursday 8th March 2012 13:01pm
Benvenuto Brunello and all that
Just returned from a week in Tuscany – not our usual patch, but as we have customers berating us for not listing enough Italian wines, we plan a selection of Tuscan wines to be listed in late June.
 
Best place to start on my Sangiovese hunt (I thought) was the annual Benvenuto Brunello tasting in Montalcino, where some 135 producers of Rosso and Brunello di Montalcino were gathered.  The event was delightfully Italian. First one has to find somewhere in or near a medieval hill-town to park your car: in such circumstances Italians display a remarkable, and surely innate, sense of geometry – they really do arrange their cars in interesting niches with Tetris-like skill. (Lacking such talent and imagination, of course I ended up parking miles away). Second, one has to battle through the crowd of smokers hanging around outside the tasting. Third, although the tasting is, in theory, for professionals only, it was clear on Sunday afternoon that anyone who was a cousin/friend/lover of anyone who had ever bought a bottle of wine (or grappa, or olive oil for that matter) from anyone near Montalcino was there and determined to party.  But inside, O Joy, a friendly bunch of Italians were pouring their wines in a medieval church cloister, with 15th century frescoes on the walls behind them.  On show were the latest releases: 2009 and 2010 Rosso di Montalcino, 2007 Brunello, 2006 Brunello Riserva, plus wines labelled St. Antimo (after a Romanesque church of perfect serenity to the south) which may include Cabernet, Merlot etc.  On Sunday afternoon and Monday morning I worked my way around some forty growers, and encountered some lovely wines. The only thing which puzzled me was the range of styles, and in particular that some 2007 Brunellos were already bricky in colour, and smelled and tasted fully mature: for a wine reputed to be one of Italy's most long-lived this is disconcerting.  
Then it was on for an afternoon in Montepulciano, that other prestigious DOC to the east, which arguably offers better value than Montalcino - followed by two days in Chianti Classico territory between Siena and Florence.  I have a new understanding of and enthusiasm for Chianti Classico. Most of the estates I visited - with the hired Fiat Punto coping superbly with some exciting dirt roads - were surrounded by hillside vineyards amongst the steep wooded peaks of the region, and the terroir really does come through in the better wines. A day and a half on the coast in Bolgheri and just north followed.  This area offers a beachhead of Bordeaux varieties: there's a strip of vineyards running south from Bolgheri where the vines of Sassicaia and Ornellaia are followed by a pile of wannabes.  Land prices have soared, and I really wonder if most of these wines are worth the money. (Frankly, I tasted such delicious 2009s in Bordeaux in late January, that many Italian Merlots seemed clumsy and over-priced by comparison).
...which brings me to pricing. Each time I was presented with a price list all over Tuscany (not that often, as Italians don't seem to bother with them), my eyes started watering, my palms began sweating, and I began to feel SVS was being expected to provide a comfortable pension for the population of Tuscany. Locals who noticed my discomfort tended to assure me that "the price list was just a starting point". Clearly I am going to need some Levantine haggling skills if we are going to present our customers with some of the region's finest!  And, in true SVS fashion, we have found some goodies to list in the summer – for example just north of Bolgheri there's an emerging little area called Montescudaio, where some lovely wines from Cabernet and Merlot are being crafted, without the Bolgheri hype and price-tag. Watch this space.
Friday 2nd December 2011 10:35am
Strange Wine Blogger arrives in Winchester
We received an online order this week from a David Strange.  Further research and a visit to deliver the wine (how often does the delivery man get rewarded with a shared bottle, so fresh and vital, of Fritz Haag's 1999 Wehlener Sonnenuhr Spatlese?!) revealed that David has just arrived in Winchester from Woolwich. 
Here is a man who is obsessed with good food and drink - enthusing about everything from the Farmer's Market to beer and interesting - but not necessarily horribly expensive - wines.  We look forward to seeing David again at our big tasting at the
Guildhall on Friday 9th; and foresee some interesting collaboration
ahead.
Do check out his highly opinionated and hugely entertaining website:
www.elitistreview.com
Tuesday 15th November 2011 15:51pm
Wine for Hugh Fearnley-Whittingstall?
We have just been working our way through our newly arrived Chilean wines and came across this on the back label of the Errazuriz Single Vineyard Carmenere....
"Serve: with well-seasoned dishes, curries, moles, and roasted meats".
Now, we know some Chilean copy-writer intended to refer to meals based on spicy Mexican sauces, but will all our customers? 
Friday 11th November 2011 10:31am
South America arrives in Twyford... finally!
Exciting news this week - our new container of wine from Argentina and Chile arrived, with loose-loaded cases from Mendoza, San Juan, the Aconcagua and Colchagua Valleys, Leyda, and numerous other regions; and not a single bottle broken...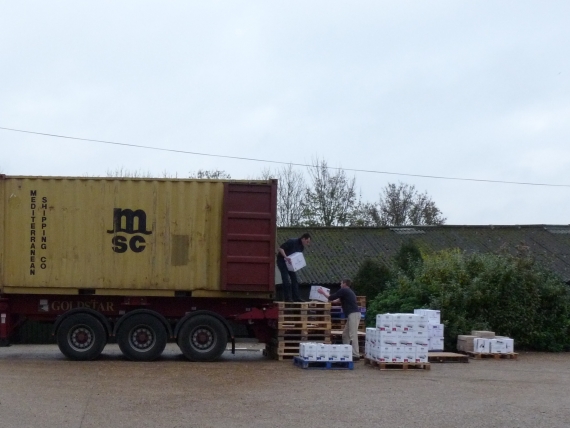 The men (aka Phil, Francois, Gordon and Simon) spent several hours manually unloading the wine and moving it into the warehouse, while the ladies (aka Camilla and Liza) stayed indoors answering telephones and making tea and coffee. Who said chivalry was dead?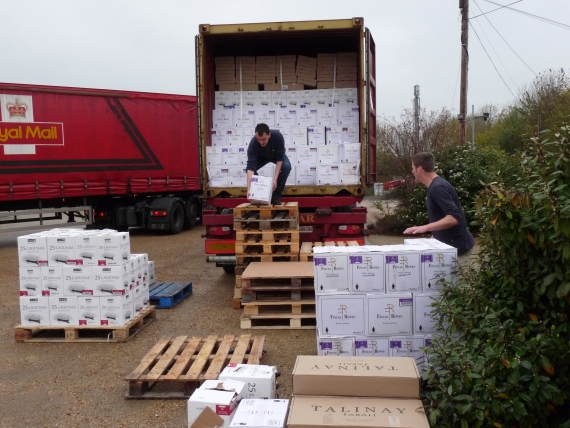 Tuesday 18th October 2011 12:02pm
Winemaker South African Tasting at the High Commission
Last Wednesday we entertained some 70 odd at the South Africa High Commission in Trafalgar Square: certainly our grandest venue to date, and even our visiting Cape winemakers were impressed.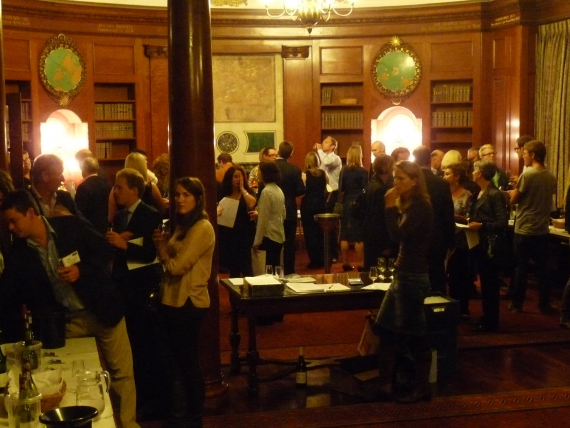 In attendance were three top young winemakers, plus Pieter du Toit, export manager at Cederberg. We showed 37 wines.  In terms of sales, the favourite style on the evening was, surprisingly, oaked Chardonnay: but then in Ataraxia and Cape Chamonix's examples we do offer two of the best from the whole of South Africa. Otherwise it was the winemakers doing the selling...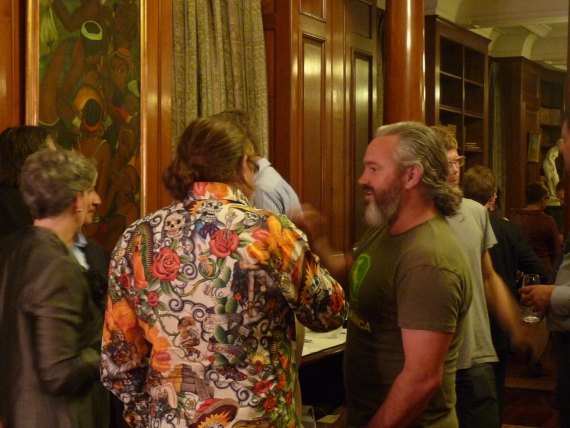 Here is Adi Badenhorst doing the business: his 2011 Secateurs Chenin Blanc is superb, combining tropical fruit with cream and fine acidity.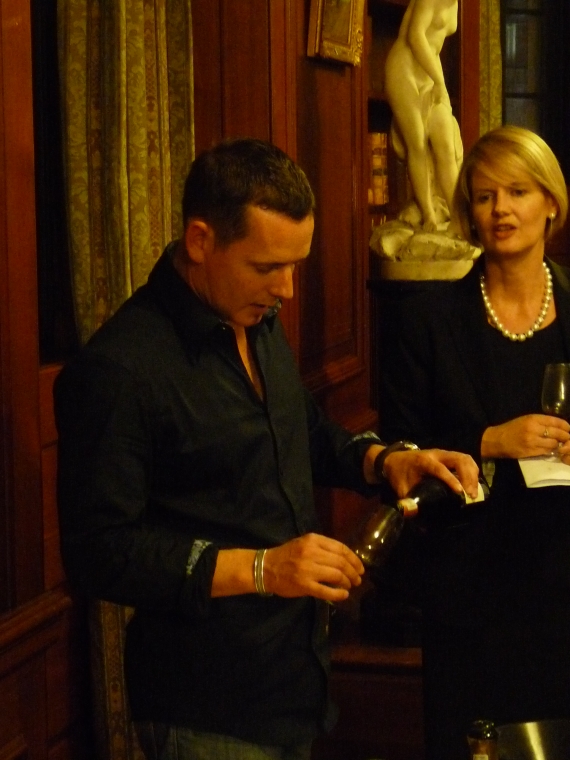 ..and here is Gottfried Mocke of Cape Chamonix. We suddenly realised that (outside fragmented Burgundy) Cape Chamonix is the only estate from which we offer seven different wines - and they are getting better, thanks to Gottfried's inspired stewardship. His fizz, oaked Sauvignon Blanc and his fascinating Greywacke Pinotage (made using partly dried grapes) were much admired.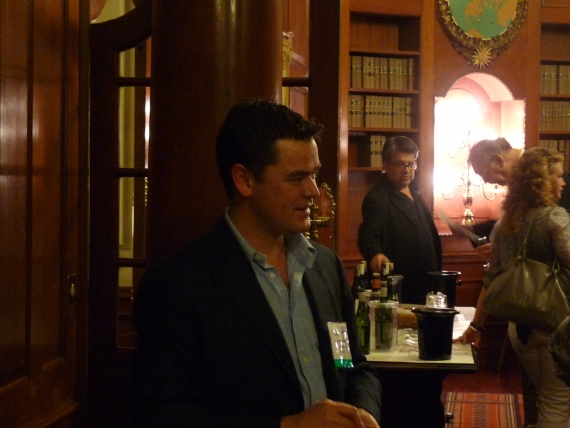 Matthew Copeland was pouring his Vondeling wines in a laid-back way - notably his Petit Blanc white blend and the chnky Erica Shiraz.
All in all a good time was had by all - certainly to judge by our opening of 60 bottles on the evening!
Friday 17th June 2011 17:15pm
B******x  Rant
I try hard not to rant ("Mr Angry of Twyford"), but the stream of euro prices from Bordeaux negociants and offers from UK merchants for 2010 Bordeaux has finally pushed me over the edge.
First, here's a bit of recent history:
2000 – Millennium Year, great vintage, big price hike
2003 – Heatwave year, short crop, very concentrated wines, big price hike (aided and abetted by Captain Robert Parker of the Spaceship Wine Advocate, who loved the wines (well, he would, wouldn't he – you could stand a teaspoon up in some of them, and many appeared as gloopy as Napa micro-cuvees)
2005 – Great Year, best since 1982, very big price hike
(Intervening years: the Chinese begin buying , and more important, drinking red Bordeaux)
2009 – Really Great Year, best since records began, etc. etc., titanic price hike
2010 – I quote from a major London merchant (two letters separated by an ampersand)
"2010 has a lot to live up to; and it does, and some. Whilst there is possibly less media frenzy surrounding the 2010s, these wines will emerge as more long-term, and quite possibly superior to the 2009s."
So there you have it: perfection trumped, and if you spent a lot of money buying 2009s, you might even feel a mite tetchy. Oh, and by the way, lots (but not all) of prices went up again for the 2010s, in some cases by 48%.
The only conclusion is that (rather like English A level students getting cleverer and cleverer every year) the Bordelais are making better and better wines.  Interestingly, if this is true, one might argue that it is rarely worth buying Bordeaux at all: if the wines are getting so much better, on an almost yearly basis, why buy any vintage when a greater one is sure to come along soon?
Prices for the first growths are now stratospheric – but that's understandable: very rich people, all over the world, want the best of anything, whether it's houses, cars or art, and if they want to fight over cases of Lafitte that's their prerogative.
But I really do have an issue with a whole pile of wannabes trying to climb on the gravy train.  One example: my father used to serve up Brane-Cantenac, a perfectly decent Margaux, at not very important dinners. The price for the 2003 vintage, en primeur, was £200 a case: in 2005 it was £300 a case; and for 2010 it's £630 or more.  Of course the weakness of sterling has done part of this, but the 2010 will be a stonking £65 a bottle delivered.  The fact is, high prices for the best are enabling lesser lights to increase their prices grossly too. Sadly we have seen this just appearing in Burgundy too: one man in Vosne puts his prices up, and the others do too so as not to appear inferior (a bit like British universities all coming out at the maximum £9k a year).
And everyone gains from this merry-go-round.  The UK merchants who continue to hype Bordeaux benefit by being able to price up their stock of older vintages.  The winners are merchants, speculators and investors, and the loser is the actual drinker.
Is that right?  Is £50 plus the "right" price for a moderate bottle of Bordeaux?  Or does this market feel like a bubble?  In recent years valuations of several areas have felt wrong before they imploded: for example the ludicrous Dublin house prices, the overweening scale of Icelandic banks, or the Contemporary Art market before 2008.  Is this where Bordeaux is headed?
Do people realise that these Chateaux produced wines are not tiny production runs?  The Chateaux and merchants announce immediate sell-outs, but how much did they offer?  How much is being held back by the Chateaux owners?  Secondly, and of enormous concern, how much wine over the last few vintages has been bought by speculators, not actual consumers.  And what happens to a market when the product being traded becomes too expensive for anyone to actually consume it?  The new Bordeaux market could well be a case of Abe's Sardines, as related by the great Simon Loftus. This was a shaggy-dog story of a shipment of sardines: the punchline was "oh no, them sardines ain't for eating, them for trading".  And watch those speculators dump the wines if prices do start falling…..
Bubble or not, DON'T BE SUCKED IN BY THIS. Here are some alternative strategies for intelligent drinkers:
1.  Buy vintages nearer their drinking window.
You can taste a wine before buying (and let's be honest, we have all had disappointments from en primeur purchases. For example right now there are lots of 2001s and 2004s around which are beginning to drink well at much lesser prices than the so-called "great vintages".
2.  Buy reds from other classic French regions
Price inflation has not been nearly as bad in Burgundy, and even for the splendid 2009 vintage prices did not rise much. In the Northern Rhone even Cote Rotie does not look over-priced, plus the better St. Josephs; in the south the best Vacqueyras and Gigondas are still very cheap ageworthy wines, plus, of course Chateauneuf-du-Pape.
3.  Buy top New World reds
There are plenty of classic or emerging New World reds which can be laid down. Try any of these: Ridge Zins and the Estate Cabernet; Felton Road Pinot Noirs; Adi Badenhorst's Family Red from Swartland; top Chilean Cab. and Carmenere blends (sadly the top Errazuriz wines have become more expensive but they are still worth considering); the best Mendoza Malbecs, such as Walter Bressia's wines; and as an excellent but lesser known alternative to red Bordeaux, look at the wines of Washington State, where Merlot and Cab. thrive – see for example our Seven Hills wines (new shipment arriving shortly).
4.  Buy top Loire late harvest wines rather than Sauternes
Sauternes too have become horribly expensive: so instead lay down top Loire wines from the Coteaux du Layon and its top sub-regions, Quarts de Chaume and Bonnezeaux. They are often cleaner (if less botrytic) with more intense flavours, and with high acidity levels they last forever.  Or look at Austrian sweeties – sensational.
Rant over.
< Previous
|
Next >
Displaying Blog Posts 1 to 10 of 26
Our Favourite Selection
"From a very sunny, well-exposed site, this has become one of our benchmark wines: lightly (almost undiscernibly) oaked and with an ability to age..."
"This refined and pure Syrah is new to our list - in style it's worlds away from an inky Australian example, rather crafted in a light and fragrant..."
"A selection from our Summer list containing two bottles each of 3 whites and 3 reds, six different varieties, with a discount of 10%"

More Info
"From about 50% Syrah, 25% Grenache and 25% Carignan, grown on black schist vineyards near the village. Youthful, opaque purple. This delivers a..."
"Ripe pears and a touch of lavender honey on the nose. Attractive weight and rich texture, with bright, pure flavours of pear and melon: a lovely..."
"Sourced from the Woolshed block of Mud House's Marlborough vineyards in the upper Wairau Valley. The sheltered hillside site and clay soils shape..."
"Deep ruby. Ripe and seductive scent of morello cherries. This combines great purity of red fruit with impressive concentration. Lushly textured...."
"In 1998, after building a huge reputation at both Delegats and Martinborough Vineyards, Larry McKenna established Escarpment on 24 hectares of..."
"We continue with this excellent vintage fizz, made from Chenin Blanc (here known as Pineau de Loire) with 10% Chardonnay. Chenin Blanc has excellent..."
"A selection from our Loire list containing two bottles each of six whites; 1 sparkling, 2 dry, 1 medium and 2 sweet, at a discount of 10%."

More Info
"The "nameless" wine is a blend of 70% Sangiovese and 15% of each of Cabernet Sauvignon and Merlot. Soft purple. Aromas of red fruit and cloves...."
"The hillside slopes of the Apalta valley, a sub-region of Chile's warm Colchagua Valley is a superb terroir for red grapes, notably Carmenère...."